Bosch Sandwich Tuckpointing Diamond Blades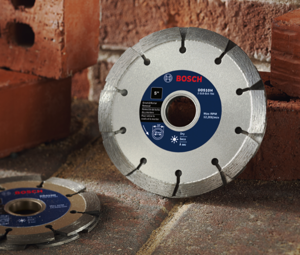 Offering includes 4-, 4 1/2- and 5-inch diameter blades for heavy-duty applications.
Every brick or stone building in North America will meet the tuckpointer at some point to cut, clean and repair old mortar. Deteriorating mortar leads to water seepage, which can ruin the structural integrity of a building. This critical application demands high-quality, long-lasting diamond tuckpointing blades that can withstand a harsh environment. And Bosch has the cost-efficient answer.
By combining tall segments and a superior diamond/metal mix with an ultra-efficient and fast sandwich-blade design, Bosch has created long-lasting tuckpointing blades that are designed to grind more surface area than competitive blades. The addition of 4-1/2" and 5" diameter sandwich blades gives the company a broad offering for use in hand-held grinders.
These eight-segment blades are made exclusively for dry tuckpointing applications. Blade widths are 6.35 mm (¼") with cutting depths ranging from .75" for 4" blades to 1.25" for 5" blades. Typical applications for tuckpointing blades include mortar removal in brick buildings and grout removal in commercial tile applications that include waste water treatment plants and subway tunnels.
"Our Bosch sandwich tuckpointing blades are built to the highest standards of quality in the industry," said Matt Van, product manager, diamond blades and bonded abrasives, Bosch. "We've talked to tuckpointing professionals from across the U.S.
and Canada to develop the right combination of aggressive design and manufacturing excellence to ensure a high-quality, fast and reliable blade every time. This is a critical job on any jobsite; the blades have to deliver."
Bosch combines copper, iron, nickel and cobalt hard-bond metal powders with high-grade diamonds to create hardened 10 mm segments. These blades have high-diamond content to cut mortar efficiently and ample keyhole gullets to remove discarded cement and other debris.
Bosch sandwich tuckpointing diamond blades are available now at distributors and home centers. To learn more or to find a local dealer, call 877-BOSCH-99. Check out www.bethepro.com for additional tips and videos.