Other Products: Buyers Products ScoopDogg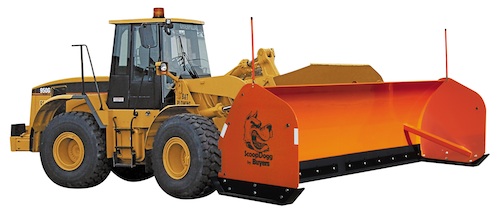 ScoopDogg snow pushers from Buyers Products offer durable snow moving solutions for loaders, backhoes, skid-steers and compact equipment. The ScoopDogg line includes 18 sizes of snow pushers that are cost-effective tools for clearing snow from large areas.
Loader and backhoe ScoopDogg models feature an exclusive extreme-duty H-beam design with 12-inch push beam for superior support. Extreme-duty upper and lower posts and wear shoes on both models support the snow pushers, giving them exceptional strength and long product life.
Skid-steer and compact models are designed with extra-durable inside posts that are fully welded to provide exceptional push strength. Both models are equipped with premium rubber compound cutting edges and universal, quick coupler attachments.
ScoopDogg snow pushers are made with durable materials with a safety orange powder coat finish, providing corrosion resistance. All ScoopDogg products are designed for extreme-duty operation, making them ideal for clearing snow from airports, shopping malls and other large lots. ScoopDogg snow pushers are proudly made in the U.S.