Lifting & Moving: CM Series 653 Lever Hoist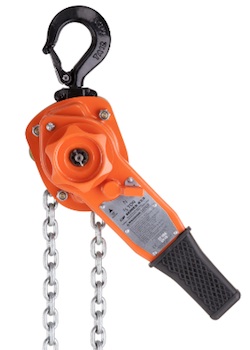 Columbus McKinnon Corporation is proud to present the CM Series 653 ratchet lever hoist with a new shorter handle design.
As part of our commitment to bring best-in-class products to market, we are continuously looking to improve existing products. One such improvement is the new shorter handle design on our popular Series 653. This modest modification makes a world of difference.
Ideal for confined work areas, the Series 653 3/4 and 1-1/2 ton capacity models are now some of the most nimble and easiest to operate hoists on the market today. This change makes the Series 653 even more compact, allowing the operator to take full advantage of the 360° rotating handle with less worry of obstructions.
The shorter handle also reduces the overall weight of the hoist, making it even easier to carry and operate.
The Series 653 offers more corrosion resistant parts than the competition, and features a simple one-handed free chaining mechanism.
For more product details, visit www.cmworks.com/Hoists/LeverHoists/CMSeries653RatchetLeverHoist.