Columbus McKinnon Hurricane Mini 360 Hand Chain Hoist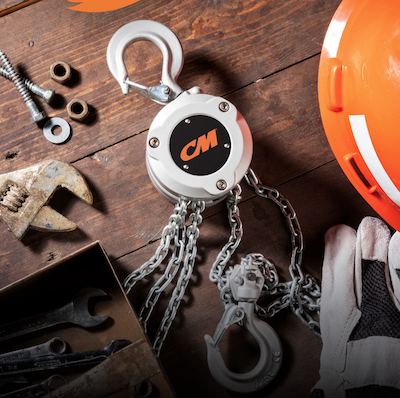 Columbus McKinnon Corporation (Nasdaq: CMCO), a leading designer and manufacturer of intelligent motion solutions for material handling, today introduces the CM Hurricane™ Mini 360° Hand Chain Hoist.
Small and lightweight, the CM Hurricane™ Mini 360° is the smallest hand chain hoist on the market with full 360-degree rotation, providing versatility as well as portability.
"We wanted to offer the market a smaller hand chain hoist with an added advantage for operators: the ability to lift loads from any angle or position—even above the load," says Andre Schon, Sr. Product Manager - Global.
"That versatility makes the Hurricane Mini 360° suitable for a wide range of applications and industries, from construction to entertainment."
While intentionally compact and lightweight, the CM Hurricane™ Mini 360° is a powerhouse, designed to lift up to 20 feet with capacities of one quarter ton and one half ton. It is ideal for narrow workspaces that do not have a nearby power source, and is easy to carry and install for on-the-go lifting applications.
Additional features and benefits of the CM Hurricane™ Mini 360° include:
Unique rotating hand chain cover which allows the hand chain to rotate a full 360-degrees for safe and efficient operation from any angle allowing the user to operate outside of the load path
Anti-corrosive features, including aluminum alloy hoist frame and zinc-plated chains
Double pawl brake system for increased safety
In addition to the launch of the CM Hurricane™ Mini 360°, Columbus McKinnon Corporation recently launched the CM HTP and HTG Clevis Trolley. Compatible with nearly any Columbus McKinnon hoist brand or model, including the CM Hurricane™ Mini 360°, the CM HTP and HTG Clevis Trolley can be easily installed in seconds and positioned by turning the trolley axle to adjust the flange width, eliminating the need for loose parts (such as spacer washers).
CM HTP and HTG Clevis Trolley ensures smooth, reliable operation with wheels that are pre-lubricated with encapsulated ball bearings for smooth rolling and wrap around steel trolley guards which protect the trolley and provide drop protection.
About Columbus McKinnon
Columbus McKinnon is a leading worldwide designer, manufacturer and marketer of intelligent motion solutions that efficiently and ergonomically move, lift, position, and secure materials. Key products include hoists, crane components, precision conveyor systems, actuators, rigging tools, light rail workstations, and digital power and motion control systems. The Company is focused on commercial and industrial applications that require the safety and quality provided by its superior design and engineering know-how.
Learn more at www.cmworks.com