Crescent Multi-Bit Drivers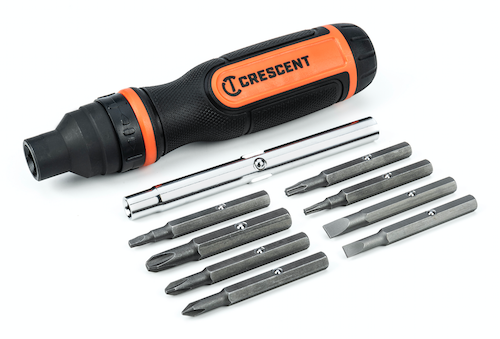 Carry less. Do more. That's what it boils down to for professionals in the trades tasked with getting a lot of work done with not a lot of time. Time wasted tracking down the right-sized screwdriver or having to go back-and-forth between tools just slows pros down. Three new Multi-Bit Drivers from Crescent® are easy to use, easy to switch, and easy to store, putting time back in your hands.
The 11-in-1 Ratcheting Multi-Bit Driver (CMBS11R) holds eight of the most common interchangeable S2 steel bits, but also can drive three different nuts (1/4", 5/16" and 7/16"). A 6-in-1 Stubby Ratcheting Multi-Bit Driver (CMBS61R) carries six bits with superior access in tight spaces. Finally, the 6-in-1 Interchangeable Screwdriver (CMBS61) covers the most common Phillips and slotted fasteners for everyday jobsite use, but also converts to a nut driver (5/16" and ¼").
Users can tighten and remove fasteners quickly with the full-metal, high-torque ratchet while reducing their carry knowing they have what they need in one tool. Plus, those bits aren't just dumped into a hollow handle. Instead, they're organized in easy-to-access slots for a quick switch.
"Not only do Crescent Multi-Bit Drivers make the job easier, but they're also easier on the hands that use them every day," said Jarrett Wolf, senior product manager at Crescent Tools. "The ergonomic dual-material handle balances strength and comfort to reduce hand fatigue. Plus, the handles are oil and solvent resistant so they can tackle the dirty work."
For more, visit crescenttool.com.