DENIOS Lithium-Ion Battery Stations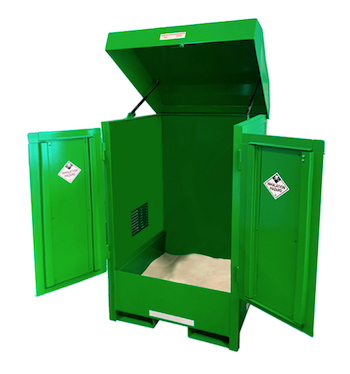 Lithium-ion batteries are becoming increasingly popular for their ability to deliver power from a compact size. Although they are used in a vast range of equipment, from handheld devices to cars, they are not as harmless as they appear, requiring special handling and care.
DENIOS, a worldwide leader in the design and manufacture of storage containers for hazardous materials, introduces Lithium-Ion Stations. Designed specifically for storing lithium-ion batteries, they are ideal for storing new, questionable, damaged, defective, or End-of-Life lithium-ion batteries typically found in small handheld devices.
Available in two standard sizes, they allow the storage storing and transportation of batteries from 1 KG to 10KG up to 100W, which are typically used in power tools, e-bikes, medical devices, laptops, tablets, mobile devices, forklifts, cars, and more. With 2 hours of fire resistance, and integrated forklift pockets for easy relocation, these purpose-built containers protect against fire hazards due to thermal runaway, deep discharge, mechanical deformation, or chemical reaction.
Each unit includes thermo-dissipative media (class D fire), and visual identification on all sides to alert emergency personnel of contents and hazards. These Li-Ion Battery Stations protect employees, facilities, and the environment. They follow guidelines within NFPA 704, IFC 608, FM 5-55 and applicable EPA regulations. DENIOS Lithium-Ion Battery Stations are ideal for manufacturers incorporating Li-ion batteries into their products, as well as facilities using them.
Every DENIOS Lithium-Ion Battery Station features solidly welded construction for a long service life, with integrated vents for passive ventilation. Lockable, hinged lid and doors keep the contents safe from unauthorized personnel. Shelving and fire extinguishers are optional.
The worldwide leader in hazardous material storage, DENIOS has extensive experience with lithium-ion batteries. They are the only supplier with a comprehensive range of solutions to store, charge, recycle, and test lithium-ion batters of all sizes. With products including large storage buildings, cabinets for small storage and battery charging, spill kit caddies for an immediate response, and more, DENIOS has a solution to safely handle any lithium ion battery need.
A comprehensive guideline for the storage of Lithium-Ion Batteries is available at https://www.denios-us.com/expertise-advice/help-advice/safe-storage-of-lithium-ion-batteries/.
About DENIOS
DENIOS is the world's leading manufacturer and supplier of products and services for occupational environmental protection and workplace safety. For nearly four decades they have been supplying legally compliant products, solutions, and custom services for handling hazardous substances. They serve North American customers from a 100,000 square-foot facility in Louisville, Kentucky which houses engineering, manufacturing, customer service, and administrative support. At this location they manufacture everything from the original spill pallet which launched the Company, to highly engineered, fire-rated chemical storage buildings.
For additional information on DENIOS US, visit www.DENIOS-us.com, or via email at info1@DENIOS-us.com, or call (877) 388-0187.