DENIOS Spill Carts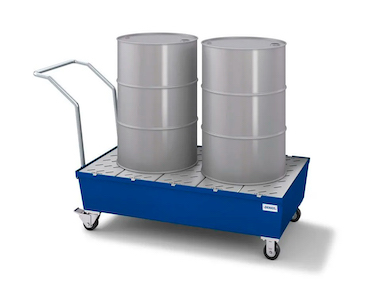 New DENIOS Spill Containment Carts and Dollies catch spills, drips, and leaks while materials are being moved, keeping the facility clean and safe. Carts with 1 or 2 drum capacity feature a new, compact, space-saving design, heavy-duty casters, and a stout handle for ease of pushing or pulling the load.
They are available in painted steel, or galvanized steel, and are 100% tested and guaranteed to be leak-free. Sumps can meet EPA, OSHA, NFPC, UFC, and other regulations. Solidly welded from high-quality steel for durability and security, they include an easily removable hot-dip galvanized plank that works like a grate.
Manufactured in the USA, with industry-leading lead times. DENIOS Spill Containment Carts are ideal for the handling of water-polluting, flammable substances, such as oils and lacquers.
About DENIOS
DENIOS is the world's leading manufacturer and supplier of products and services for occupational environmental protection and workplace safety. For nearly four decades they have been supplying legally compliant products, solutions, and custom services for handling hazardous substances. They serve North American customers from a 100,000-square-foot facility in Louisville, Kentucky which houses engineering, manufacturing, customer service, and administrative support. At this location, they manufacture everything from the original spill pallet which launched the Company, to highly engineered, fire-rated chemical storage buildings.
For additional information on DENIOS US, visit www.DENIOS-us.com, or via email at info1@DENIOS-us.com, or call (877) 388-0187.