Hand Tools: DEWALT Stackable Sets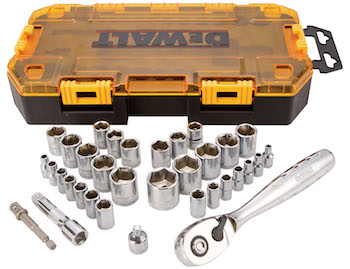 DEWALT introduces new Mechanics Accessory Tool Sets in new durable cases. These sets slide into the individual trays that clip together as part of the new DEWALT Tough Lock Stacking System for secure transport and quick grab and go convenience of hand tools and accessories.
Build your own tool platform for the task at hand with DEWALT's new Guaranteed Tough line of Mechanics Tools, including newly designed sockets, ratchets, drivers, wrenches, and more with new and innovative features that give mechanics the edge in on-the-job performance.
For many jobs you don't need to bring along an entire set of mechanics tools. With the Stackable Sets program you can build your own tool platform, ideal for your specific job, and bring along only the tools you need – in a convenient durable carrying case or set of cases locked together.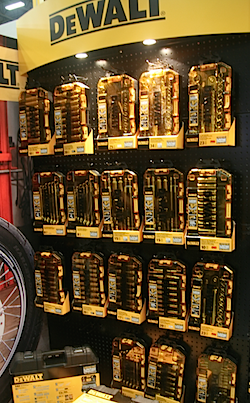 The Stackable cases feature durable shatter-resistant transparent lids so it is easy to see inside the case. The cases also feature an injection molded tray which can be removed and stored in DEWALT roller boxes or DEWALT Metal Storage chests.
DEWALT's newly designed mechanics tools feature a range of tools from ratchets to removable accessory cases and more.
The new 72-Tooth Ratchet is ideal for high torque ratcheting and offers 3X longer life cycle versus standard ratchets on average. The 72 teeth allow for slight tightening or loosening in cramped spaces where it is difficult to back up the ratchet. The Ratchet's 5 degree arc swing and slim head design offer maneuverability in constricted areas.
Offering one-hand operation, the new Ratchet features a contoured, ergonomically designed handle with anti-slip grooves for comfort and control. It is made from premium chrome vanadium steel for strength and durability.
The Ratchet easily connects and disconnects to an extensive range of sockets. Sockets and other pieces in the sets feature knurled rings that help reduce slippage for hand tightening applications. Sockets also features laser etched markings for quick and easy identification.
DEWALT's new Combination Wrenches feature a long-panel forged design for longer reach and leverage. A new Anti-Slip design delivers 400 percent more gripping power by locking the wrench onto nuts and bolts to help prevent slippage and provide extra torque. The Anti-Slip Design features raised ridges and indented grooves in the mouth of the wrench to provide added grip for grasping nuts and bolts. The Combination Wrenches also include a 15 degree box end offset for knuckle clearance.
A new high-end vinyl Grip Bit Driver is included in the sets. This durable screwdriver is designed to reduce slipping and provides maximum comfort.
Guaranteed Tough, the new DEWALT Mechanics Tools offer a full lifetime warranty with hassle free replacement with next day delivery.
"We are so confident in the performance of each piece of the Mechanics Tool Sets that we are offering a 24-hour replacement program," said Rob Ronan, Senior Product Manager. "Where competing set manufacturers promise replacement with proof of purchase at a store, requiring traveling to and from a retail outlet, DEWALT will ship replacement parts direct without proof of purchase for next day delivery if customers call 800-4-DEWALT or go online to the DEWALT customer service website before 3 p.m."
The following DEWALT Mechanic Tool Sets are available now at independent retailers.
DWMT73804 1/4″ & 3/8″ Drive Socket Set- 34 Piece $ 44.99
DWMT73805 1/4″ Drive Socket Set -25 Piece $ 29.99
DWMT73806 3/8″ Drive Bit Socket Set-17 Piece $ 19.99
DWMT73807 1/4″ & 3/8″ Drive Accessory Set- 15 Piece $ 29.99
DWMT73708 1/4″ Drive Multi- Bit and Nut Driver Set- 70 Piece $ 29.99
DWMT73809 SAE Combination Wrench Set- 8 Piece $ 29.99
DWMT73810 METRIC Combination Wrench Set- 8 Piece $ 29.99
DWMT73811 1/4″ Drive Deep Socket Set- 20 Piece $ 19.99
DWMT73812 3/8″ Drive Deep Socket Set- 20 Piece $ 29.99
DWMT73813 1/2″ Drive Socket Set- 23 Piece $ 49.99
DWMT73814 1/2″ Drive Deep Socket Set SAE- 10 Piece $ 29.99
DWMT73815 1/2″ Drive Deep Socket Set METRIC- 10 Piece $ 29.99