Adhesives & Sealants: Dow FROTH-PAK ULTRA Premium Foam Insulation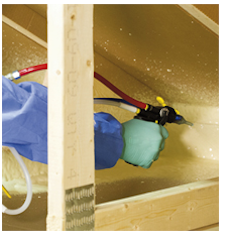 Dow Building Solutions' FROTH-PAK ULTRA Premium Foam Insulation is a low-pressure (LP) spray foam system that provides contractors with the same performance attributes as high-pressure (HP) drum foam insulation, but without the expense of large rigs.
The system is approved for use in many more applications than other LP spray foams, helping contractors expand their job opportunities and grow their business. With no length or width restrictions,
FROTH-PAK ULTRA Premium Foam Insulation is the only LP foam that can be left exposed up to 8 inches thick in rim joists and 10 inches thick in uninhabitable attics and ventilated crawl spaces. In addition, with one-hour re-entry, trades and occupants can return more quickly than with HP systems.
The new state-of-the-art refill system allows for a lower, longer-term cost of ownership when compared to drum and rig systems. And on many jobs, it costs less to operate. Dow offers an online calculator that enables contractors to quickly and easily calculate what size jobs FROTH-PAK ULTRA will be the most profitable for their business.
"We're excited to deliver this innovative solution to the marketplace that helps fill an unmet need – opening up new job opportunities for contractors, helping them boost profitability and grow their business," said Joe Barrow, Project Leader for Dow Building Solutions. "Whether contractors are currently spraying high or low-pressure foams, FROTH-PAK ULTRA can help them grow their business. It can be used on smaller jobs, without tying up large rigs. In addition, contractors already using low-pressure foams can now do jobs they couldn't do before. And for contractors looking to enter the market, this system is less expensive, with no need to purchase a large spray rig."
"Finally, a low-pressure spray system that gives you the performance resembling a high-pressure system, with a one hour re-entry," said Bryan Kwater, Vice President for Matric Company.