Cortec EcoLine Fifth Wheel Grease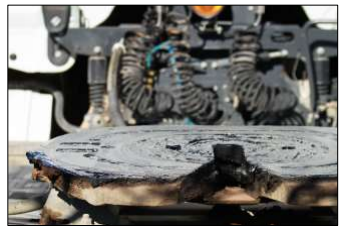 Cortec has added another name to its growing portfolio of USDA Certified Biobased Products. The newly awarded USDA Certified Biobased label signifies that EcoLine Fifth Wheel Grease contains 91% USDA certified biobased content and qualifies for federal purchasing in accordance with the USDA BioPreferred Program.
Semi-truck fifth wheels need frequent lubrication to protect against friction, wear, and binding of the fifth wheel to the trailer apron. Cortec's EcoLine Fifth Wheel Grease offers an excellent biobased, biodegradable alternative to conventional all-purpose greases for lubricating metal-to-metal contact areas such as fifth wheels. Instead of risking potential pollution with a fossil-fuel based grease that could spill on the ground, using EcoLine Fifth Wheel Grease on semi-trucks provides needed lubricity but is non-harmful to the environment if it happens to leak on the road.
As with other specialized products in Cortec's expanding portfolio of biobased greases, EcoLine Fifth Wheel Grease is not limited to fifth wheel application. It also serves as good all-purpose grease for trailer hitches, mechanical joints, and any other sliding or rolling metal-to-metal contact areas where an NLGI grade 2 EP (extreme pressure) grease is needed.
EcoLine Fifth Wheel Grease is premium quality biodegradable, multipurpose grease formulated from vegetable oils and a lithium-based thickener. Its superior lubricity promotes longer equipment life by reducing friction and wear. It shows good adhesion to resist water washout and has a wide range of operating temperatures.
Advanced extreme pressure additives provide excellent protection.
EcoLine Fifth Wheel Grease is recommended for use in fifth wheel plates of semi-trucks. It also serves as a biobased, biodegradable replacement for petroleum-based all-purpose greases used in sliding or rolling metal-to-metal contact areas.
Application: Apply to metal contact areas where NLGI grade 2 grease is needed.
Package: This product is available in 14 ounce (396 g) cartridges (12 per carton), 5 gallon (19 liter) pails, and 55 gallon (208 liter) drums.