Ergodyne Squids 317 Tower Climbers Kit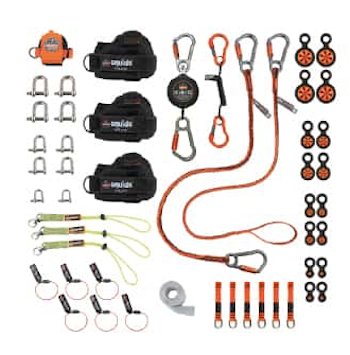 Ergodyne announced an extension to its line of trade-specific tethering solutions with the addition of the Squids 3170 Tower Climber Tool Tethering Kit.
The Tower Climber Tool Tethering Kit contains tool attachment and lanyard solutions specific for tools commonly used by climbers in the telecom industry, as well as linemen and antenna workers.
"Over 50,000 workers were injured by dropped and falling objects in 2018, roughly 6,000 more than the previous year," says Brent Velenchenko, Product Specialist for Ergodyne. "That's why it's crucial we continue to simplify at-heights safety with all-in-one tethering solutions. At one kit per worker, it's significantly easier for safety managers to get exactly what they need to keep workers safe."
The kit contains product solutions for tethering cordless power drills, impact drivers, angle drivers, heat guns, levels, tape lines, adjustable spud wrenches, combination wrenches, torque wrenches, ratcheting wrenches, hex keys, tape measures, flush cut pliers, cable cutters, screwdrivers, nut drivers, utility knives and pry bars.
To learn more, email orders@ergodyne.com or call 800-225-8238 // (651) 642-9889.