Esco Tool MILLHOG APS-438LRC Air Powered Saw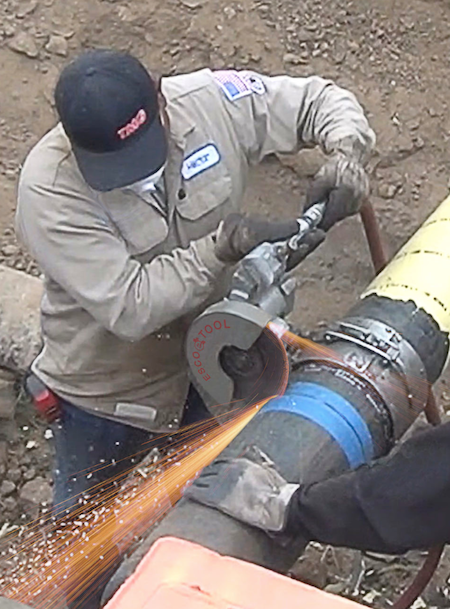 A pneumatic saw, mounting trolley, and circumferential track system that produces straight, square cuts on concrete lined steam pipe in ditches has been introduced by Esco Tool of Holliston, Massachusetts.
The MILLHOG APS-438LRC Air Powered Saw mounts rigidly using a trolley and WrapTrack system featuring an articulating arm that keeps the abrasive saw blade on its leading edge to produce square cuts accurate to ±1/16".
Ideal for cutting concrete lined steam pipe on-site in tight quarters, it is easy to setup, will not drift, and helps maintain the integrity of the concrete.
Well suited for pipes ranging from 6" to 60" dia., the MILLHOG APS-438LRC Air Powered Saw provides a fast and efficient method for cutting concrete lined pipe.
Leaving a smooth finish for joining the pipes using couplings, this low radial clearance saw eliminates torch cutting and grinding which can chip and crack the concrete internally because of stress and bending.
The MILLHOG APS-438LRC Air Powered Saw sells for $5,795.00 and the WrapTrack from $450.00 up. Rentals are available from $295.00 per week.
For more information contact: Matthew Brennan, Marketing Director, (800) 343-6926; FAX (508) 359-4145; e-mail: matt@escotool.com.