Extreme Abrasives ALUGRIND Flap Discs and Mini Flap Discs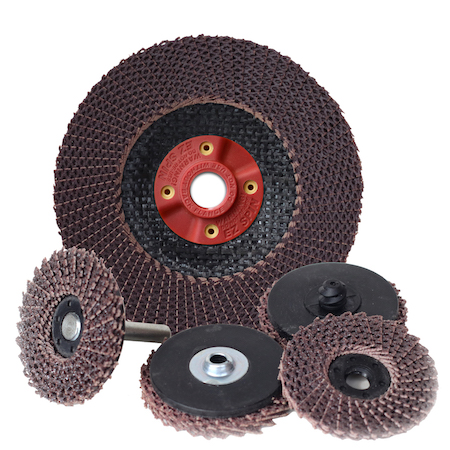 Extreme Abrasives' new ALUGRIND flap discs and mini flap discs feature a brand-new material made by Mirka called Abranet. These discs make a revolutionary solution for grinding and finishing aluminum and soft metals and can also be used to sand wood.
The symmetric net structure enables an efficient cut for consistent stock removal all while reducing the number of steps used for finishing aluminum. Lower pressure reduces operator fatigue.
The long life of these discs results in fewer disc changes needed to complete job. This also saves time and money due to fewer changeovers.
The most unique characteristic of ALUGRIND flap discs and mini flap discs is that they provide you with clog free grinding and generate very little heat due to heat dissipation that can occur during aggressive grinding. Melting the work piece surface is nonexistent.
ALUGRIND discs where shown at the Fabtech show and were a show stopper. People who watched the booth demonstration all wanted to know where they could buy some.
For more information, contact Andre Simard, Sales Director for Extreme Abrasives by e-mail at andre@extremeabrasives.com or by phone at 1-450-779-9468.