FastenMaster FrameFAST Structural Framing System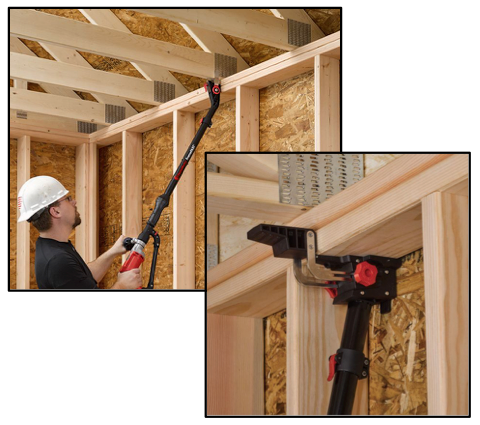 The newest cordless FrameFAST Structural Framing System by FastenMaster is designed to drive jobsite productivity. FrameFAST is a better way to make critical connections along the continuous load path.
The cordless FrameFAST Tool offers contractors and installers a tangle-free experience that increases safety on the job site while increasing speed and productivity.
With the choice of a professional grade DEWALT or Milwaukee drill, the FrameFAST tool comes with a limited 3year warranty. Using the recommended battery, users will be able to drive up to 200 fasteners on a single charge.
The system consists of both the structural wood screw and the FrameFAST tool. One tool, with three interchangeable heads, provides consistently accurate installation along with increased speed and safety and eliminates a variety of clips, straps and ties used to transfer forces from one faming member to the next.
Additionally, the system allows PROs to stand safely on the floor, eliminating the need for ladders, pneumatic nailers, and other safety hazards. Critical connections are made five times faster and provide greater uplift and lateral load capacity.
The FrameFAST Structural Framing System utilizes one tool, one screw, and three interchangeable heads to provide a code-compliant replacement to standard hurricane ties, clips, and straps.
* FASTER: FrameFAST installs 5x faster than traditional connectors. No need to position a ladder and haul heavy tools up and down. With FrameFAST the installer simply loads a FrameFAST screw, positions the tool, and drives. One Screw. No Decisions.
* ONE FASTENER: The system utilizes 6-inch FrameFAST screws for a variety of structural connections. This greatly reduces jobsite errors by eliminating the need to choose the correct fastener for each connection and provides for easier inspection.
* THREE HEADS: The patented FrameFAST delivery system ensures accurate installation of the FrameFAST screw. Three application specific installation heads install the screw at the correct angle, precise offset, and proper depth to optimize thread engagement. These three attributes are critical to the strength and integrity of the connection.
* FIVE APPLICATIONS: Establish a continuous load path from the roof truss-to-top plate, top plate-to-stud, stud-to-bottom plate, bottom plate-to-rim, and rim-to-top plate, all the way through the building and down to the foundation.
* SAFER OPTION: The FrameFAST system enables builders to make these connections standing safely on the floor. By eliminating the need for ladders and pneumatic nailers, safety hazards that lead to trips, falls, and other injuries are significantly reduced.
* MEETS CODE: The FastenMaster FrameFAST System provides a code compliant solution that eliminates the need for commonly used ties, clips and straps on many projects. Technical reports are available for all 50 states and Canada.
For additional information please contact FastenMaster at 800.518.3569 or visit www.FastenMaster.com.