Fenix HM65R Rechargeable Headlamp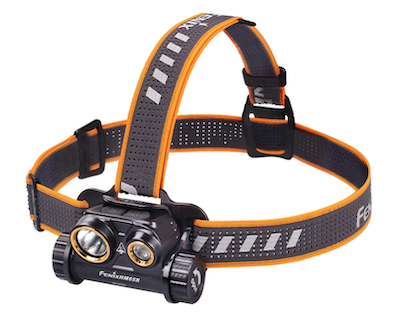 The Fenix HM65R Rechargeable headlamp is designed to endure all the elements. This new Fenix headlamp is constructed from ultra lightweight magnesium material. With two Cree LED's, the HM65R can reach 1400 Lumens by activating its dual spotlight and floodlight mode.
The primary power option is a single 18650 battery; as a secondary option, you can also power the HM65R with two CR123A batteries. The HM65R also features a USB type-C Charging port to facilitate charging of the 18650 battery that is included.
With an all-new body designed from magnesium, the Fenix HM65R headlamp has an IP68 waterproof rating, IP6X dust-proof rating, and 2 meters of impact resistance. The included adjustable headband provides comfort and adjustability for a perfect fit in every situation.
Specifications:
1400 Lumens Max Output
Cree XM-L2 U2 White and Cree XP-G2 R5 Neutral White
Dual Switch Operation
Independently controlled spot and flood LED
USB Type-C charging
Intelligent memory circuit
Outputs:
Spotlight
Turbo: 1000 Lumens, 2 hours, 534 ft
High: 400 Lumens, 22 hours, 331 ft
Med: 130 Lumens, 42 hours, 187 ft
Low: 50 Lumens, 97 hours, 121 ft
Floodlight
High: 400 Lumens, 21 hours, 180 ft
Med: 130 Lumens, 50 hours, 98 ft
Low: 8 Lumens, 300 hours, 19.6 ft
Features:
Dual Spotlight and floodlight outputs
IP68 Dust-proof and Waterproof Rating: Fully submersible to 6.5 feet for 30 minutes
2-Meter impact resistance
Made from lightweight magnesium with all metal housing; 32% lighter than aluminum
Durable and Reflective headband for easy visibility
Sweat channeling lines guide sweat away from the eyes
Ergonomically designed Headlamp holder
60° tilt headband
Lockout Function
Battery included
Battery Level Indicator
Four lights: 100%-80%
Three lights: 80%-60%
Two lights: 60%-40%
One light: 40%-20%
One light flashing: 20%-1%
Included: One ARB-L18-3400 rechargeable 3400mAh 18650 Battery
Compatible: One rechargeable 18650 battery or two non-rechargeable CR123A batteries
Size
Length: 3.17 inches
Height: 2.17 inches
Width: 1.57 inches
Weight: 3.42 oz
Included
Fenix HM65R Headlamp
Rechargeable 18650 Battery
Top and Bottom Headband Strap
User Manual
www.fenix-store.com/fenix-hm65r-rechargeable-headlamp-1400-lumens/