Hand Tools: General Tools E-Z Pro mortise & tenon jig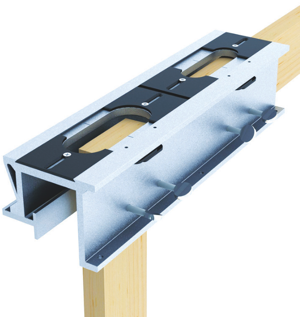 Known among woodworkers as the "King of Joints," the mortise and tenon joint is still extensively used even after 4,000 years. History offers examples of this joint in ancient Egyptian, European and Chinese construction. But until now, no one has figured out a way to provide a quick and easy, all-in-one solution to cut both a matching mortise and tenon with a single inexpensive jig suitable for both the professional and the DIYer.
General Tools & Instruments (General) is proud to announce the release of the E∙Z Pro Mortise & Tenon Jig (Model 870; Patent Pending). This new jig was designed in-house by General's product development team and will be available December 1, 2010 with an anticipated MSRP of $99. In August, General debuted a prototype at the International Woodworking Fair in Atlanta to a tremendously positive reception. The Mortise & Tenon Jig is the latest entry in General's E∙Z Pro line of innovative, affordable and easy-to-use wood joining jigs. The line also includes a Dovetail Jig, a Pocket Hole Jig, a Doweling Jig and a jig to straighten crooked boards (Jointer Clamp).
The E∙Z Pro Mortise & Tenon Jig comes completely assembled and ready to use right out-of-the-box. Included is a quick-change guide-sleeve assembly and 1/4" up-cut spiral carbide bit to produce the widely used 1/4" mortise and tenon joint, as well as guide-sleeve assemblies for 3/8" and 1/2" joints. Using a plunge router with the jig, woodworkers can quickly and easily cut a fully aligned matching mortise and tenon of 1/4", 3/8" or 1/2" thick and from 1" to 3" wide. The unit can easily handle stock ranging from 1/2" to 1½" thick and can cut multiple mortises in a single long piece. The unit can be mounted directly on a workbench or onto a board that can be clamped in a vise or to a bench.
The complete E∙Z Pro Mortise & Tenon Jig includes the following: the ruggedly constructed, solid T6 Aircraft grade, hardened aluminum jig featuring a convenient thumb-screw arrangement for mounting your work, sliding templates to adjust the length of the joint and a novel "swing-arm" feature for centering and aligning your cuts; a quick-change guide-sleeve assembly with 1/4", 3/8" and 1/2" guide-sleeves; a wrench for the guide sleeve; a centering pin and a 1/4" up-cut spiral carbide bit.
To learn more about General Tools & Instruments and its wood joining products, visit www.generaltools.com/joiningtools, or call Customer Support at 1-800-697-8665.