Measurement: General Tools RLD440 Digital Dual Mode Refrigerant Leak Detector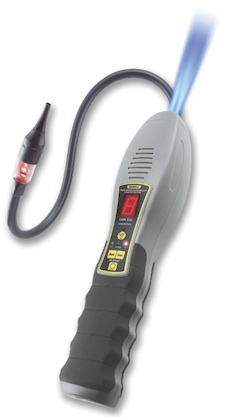 The new Made in America Digital Dual Mode Refrigerant Leak Detector (RLD440) from General Tools & Instruments offers HVACR technicians and contractors advanced technologies that make leak detection easier and more accurate.
The RLD440 is built to detect all commercially available HFC, HFO, HC, HCFC and CFC refrigerant gases. It's ideal for inspecting and maintaining mobile and stationary air conditioners, refrigerators, chillers and heat pumps.
And it's certified to comply with ASHRAE standard 173-2012; SAE J2791, J2913 and J1627 standards; and European standard EN14624.
The RLD440's ultraviolet (UV) detection mode allows technicians and contractors to quickly determine if a refrigerant gas leak exists. After charging a system with fluorescent dye, technicians and contractors use the RLD440 to scan system components with UV light from three LEDs mounted on the end of the instrument's grip. Any dye escaping from the system will glow a bright yellow-green.
The instrument's other detection technology—a solid electrolyte semiconductor sensor—can pinpoint the source of a leak and gauge its size. Among the RLD440's best-in-class features is the lifespan of this proprietary sensor, which is specified at more than 10 years of normal use. Test data indicate no decline in the sensor's performance after thousands of hours of operation.
The RLD440 is typically used in this way: First, technicians and contractors employ the UV mode to establish whether or not a leak exists. Then, they switch to semiconductor sensor mode to isolate and gauge the size of the leak.
The RLD440's true mechanical pump draws in samples, which increases sensitivity. Three sensitivity levels let users choose the right level for specific environments. Sensitivities of 0.05 oz./year (1.4 g/year) to R-134a and 0.025 oz./year (0.7g/year) to R-22 are also best-in-class features.
Quadruple-redundant leak indication—UV dye detection, fast beep, flashing LED and digital leak size reading—make it easy to detect and characterize leaks in any setting.
The RLD440's automatic calibration and reset ensure accurate leak readings not distorted by ambient levels.
In addition, a leak test vial containing a refrigerant sample allows users to easily confirm the instrument is operating correctly. And, with its durable construction and padded hard plastic carrying case, the RLD440 is built to survive punishing tasks and harsh environments.
With advanced leak detection, best-in-class sensor lifespan and sensitivities, quadruple-redundant leak indication and other features, technicians and contractors can rely on the RLD440 to help:
Prevent compressor, evaporator and condenser damage caused by air and moisture entering a system
Save money by precluding repeated system recharges and inefficient cooling operation
Meet U.S. Clean Air Act leak repair timetable standards (for large system operators)
Inhibit ozone layer depletion
Visit www.generaltools.com or call Customer Support at 1-800-697-8665.