Grabber Offers LEVEL5 Finishing Tools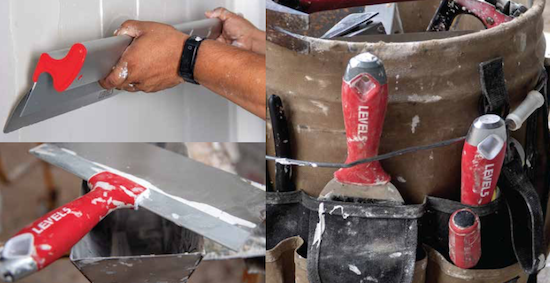 Drywall professionals trust Grabber fasteners at the start of every job. By partnering with LEVEL5 now, Grabber has a hand in high-quality, finishing too.
Already known for professional-grade fasteners and installation tools, Grabber now supplies dealers with a complete line of best-in-class finishing tools. Distributors can fill a wider range of inventory with one order from Grabber.
LEVEL5 has designed and built a unique line of high-quality tools based on nearly 20 years of input from professional finishers. Through their valued feedback and a culture of ongoing research and innovation, LEVEL5 makes tools that make drywall jobs easier, more efficient, and ultimately more profitable. Product features give attention to a pro's daily needs and are backed by an industry-leading 7-year warranty. LEVEL5 finishing products are available in tool sets as well as SKUs for product categories like these.
LEVEL5 Stainless Steel Trowels
Not your average trowel, a LEVEL5 trowel features a patent-pending leather and composite handle. It forms to a user's hand over time for a perfectly comfortable and ergonomic fit. An ideal combination of durability and light weight, the trowel handle attaches with strong, surface- mounted rivets that last longer than through-rivet designs.
These 4.75-inch-width trowels are available in 5 lengths: 11.5", 12", 14", 16", and 18".
LEVEL5 Putty and Taping Knives
Using input from professionals, putty and taping knives are designed with on-the-job features contractors appreciate. Contractors can choose from soft or nylon handle grips with an ergonomic design for all-day use. A glass-reinforced nylon core makes the handle impact- and solvent-resistant.
Proving that it's designed for the pros, each knife has a tough, alloy-metal hammer end to reset drywall nails without changing tools. Hollow ground at mid-blade provides the perfect flex point for a nicely broken-in feel. A precision ground edge and large hanging hole complete attention to every detail.

LEVEL5 Skimming Blades
Made with European stainless steel and with an extruded aluminum blade back, LEVEL5 skimming tools feature replaceable blades and a helpful range of accessories including a handle adapter for a skimming pole as well as extendable handles to add length.
Skimming blades (0.3mm) are available in many lengths: 7", 10", 14", 16", 24", 32", 40", 48"
LEVEL5 Specialty Tools and Accessories
As further proof LEVEL5 knows professionals, the line includes tools that go beyond the basics to help get a job done right.
Painter's tool
Clipped knife
Pointed knife

Inside corner finisher

Outside corner finisher

Bucket scoop

Stainless mud pans

Mud mixer

Jab saw
The LEVEL5 line of drywall finishing tools adds to the innovation of Grabber Construction Products, an international distributor of quality products for construction professionals. The Grabber family of products includes premium fasteners and fastening systems for wood, metal and drywall applications in the commercial and residential construction markets. Grabber also distributes a wide range of proprietary tools, accessories, equipment, and building materials to the construction industry.
Download complete product details about the LEVEL5 product line at www.grabberpro.com/level5.pdf
Or to request more information solutions, contact info@grabberpro.com or call 800-477-TURN (8876).