Norton QUANTUM3 RightCut Wheels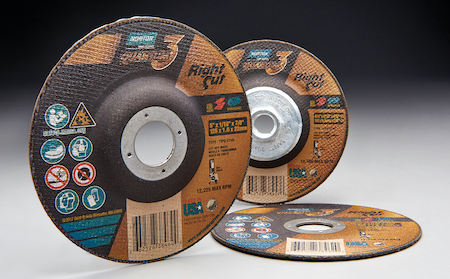 Saint-Gobain Abrasives, one of the world's largest abrasives manufacturers, has introduced its new Norton QUANTUM3 RightCut Wheels, adding cut-off capability to its Norton QUANTUM3 (NQ3) line which also includes Depressed Center Grinding Wheels and Combination Wheels.
View a video, request a test and download a brochure at http://nortonsga.us/nq3
In comparison tests, NQ3 RightCut Wheels have several key benefits over competitive wheels. True to the Norton Quantum3 technology, and its previously released NQ3 wheels, the new Norton Quantum3 RightCut wheels are designed with the operator in mind. It boasts a more rounded grain than precision-shaped ceramic grains found in the market today. Being rounded allows for faster cutting action, with less vibration, which is instrumental in reducing operator fatigue when cutting metal all day.
When working on thinner materials, or in the case where operators need to get the job done quickly, the 0.045"NQ3 RightCut wheel is ideal. Due to the proprietary grain, the wheel easily cuts through the workpiece quickly, increasing efficiency and saving time.
"The bond system of the NQ3 technology allows for better mix control during the manufacturing process. This better mix keeps the individual grains from clumping together, for a more even wear of the cut-off wheel," said Alicia Castagna Ph.D., Norton |Saint-Gobain Abrasives, Product Manager Thin Wheels.
This is also true with the 1/16" NQ3 RighCut wheels when cutting thicker materials. Longer life translates to more productivity, keeping the operator working smarter, not harder.
The Norton Quantum3 line of RightCut wheels are offered in four Type 01/41 and three Type 27/42 cutting application SKU's. All products are currently in stock. These wheels are available in 4-1/2", 5" and 6" are made in the USA. A product test can be requested at http://nortonsga.us/nq3.