Henkel GE Re-New Sealant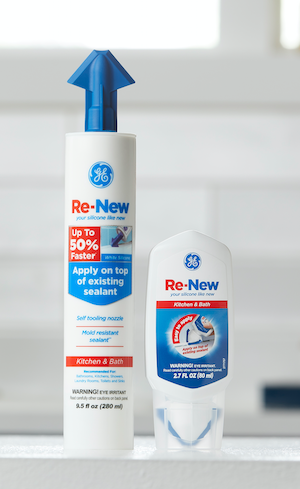 Henkel is proud to introduce GE-branded Re-New from America's #1 Silicone Brand†. Re-New quickly applies over existing 100% silicone sealant to help finish sealing jobs up to 50% faster1. This product is available in 9.5 fl oz cartridge and 2.7 fl oz squeeze tube sizes.
"Re-New takes out the hassle of having to remove existing seals," explained Sebastiaan Selders, Brand Director. "You simply clean the existing 100% silicone sealant, apply Re-New on top of it, then let it cure for 24 hours. The result revives old and damaged sealant without the need to remove the old caulk. We like to say, "Don't re-do it. Just Re-New it!'"
Benefits of Re-New include:
Mold and mildew resistant
Flexible and waterproof
Great adhesion to existing 100% silicone sealants
Self-tooling nozzle for seamless results
Easy to apply, clean and correct
"Whether you're a pro or a DIYer working on a sealing job, you want to get the job done easily, quickly and efficiently," said Pete Rippee, Brand Manager. "We listened to our customers and designed Re-New with this in mind. It's ideal for a variety of projects around the house, including bathtubs, showers, countertops, backsplashes and sinks. Used over existing seals, Re-New is a real timesaver."
It is important to note that Re-New should not be used for original seals. Re-New is available through Amazon and Home Depot. More information, including videos of when, where and how to use Re-new are available here.
About Henkel North America:
In North America, Henkel operates across its three business units: Adhesive Technologies, Beauty Care, and Laundry & Home Care. Its portfolio of well-known consumer and industrial brands includes Schwarzkopf® hair care, Dial® soaps, Persil®, Purex®, and all® laundry detergents, Snuggle® fabric softeners as well as Loctite®, Technomelt® and Bonderite® adhesives. With sales of around 6 billion US dollars (5 billion euros) in 2020, North America accounts for 27 percent of the company's global sales. Henkel employs approximately 9,000 people across the U.S., Canada and Puerto Rico.
For more information, please visit www.henkel-northamerica.com.