KEEN KONNECTFIT Heel-Locking System Foot Wear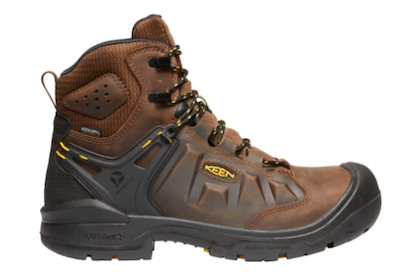 The KEEN Dover​ Work Boot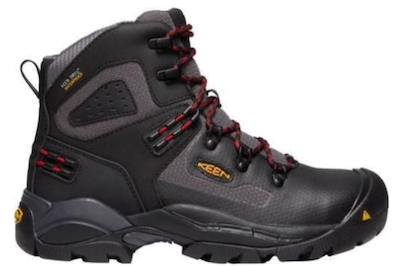 The KEEN St. Paul Industrial Hiker
The dynamics of a job site are ever changing, yet being surefooted is an endless necessity. Safety in the workplace requires footwear that not only offers protection and reliability, but a proper fit.
The new KEEN KONNECTFIT Heel Locking system from KEEN Utility provides the most secure fit possible to better navigate the job site.
KEEN KONNECTFIT features a free-moving cord system that allows a custom, foot-hugging fit every time the boot is laced up. By helping to pull the heel back and into the heel cup the foot is secure and comfortable inside the work boot.
This reduces the common fit challenges like friction and heel slippage and improves foot stability within the work boot to create a better sense of connection between the boot and the ground beneath.
The new fit system is combined with best-in-class performance and safety features for which KEEN Utility is widely known, and will be introduced on two new safety styles for Spring 2019.
"From the beginning, KEEN had an innate understanding that fit matters," said Todd Lewis, Product Director for KEEN Utility. "Our footwear foundation rests on the belief that fit, comfort and protection are critically important. KEEN KONNECTFIT is the next generation of fit innovation for our brand, providing the wearer with an experience that allows the work boot to feel like an extension of their body and not an addition."
The new American Built men's ​Dover​ work boot features versatile design and state-of-the-art performance features and comfort fit to match work applications across the construction industry. Assembled in KEEN's Portland, Oregon manufacturing facility using responsible sourced materials from around the world, the Dover is the first style introduction from the company-owned factory to feature the new KEEN Utility Carbon Fiber safety toe cap. Non-metallic and weighing nearly 15% less than traditional steel, the carbon fiber asymmetrical safety toe caps offer a roomier and unobtrusive fit.
The outdoor-inspired industrial hiker is built with the new KEEN KONNECTFIT Heel Locking System along with the KEEN Utility LUFTcell midsole that features nearly 100,000 air bubbles per cubic centimeter, providing lightweight comfort for all day wear. An ergonomically-designed, removable PU footbed provides excellent underfoot support while a Cleansport NXT antimicrobial liner offers natural odor protection.
Weather-ready, the Dover boot also features a waterproof leather upper, KEEN.Dry breathable waterproof membrane, and an EH-rated abrasion-, oil- and slip-resistant non-marking rubber outsole.

The performance-ready men's ​St. Paul​ industrial hiker blends some of the best new features KEEN Utility has to offer for Spring '19. The six-inch safety style boot features a highly durable no-sew textile upper reinforced with TPU at key wear areas to improve structure and longevity. The boot features a KEEN.DRY waterproof, breathable membrane that lets water vapor out but never in and Cleansport NXT antimicrobial lining for natural odor protection.
Like the American Built Dover, the St. Paul also features the new KEEN KONNECTFIT Heel Locking System and asymmetrical Carbon Fiber protective toe caps, offering non-metallic, ASTM-Rated lightweight protection with a more comfortable, roomier fit.
Not short on KEEN Utility technology, the St. Paul also features the KEEN.KEY-TECH full-length TPU interlocking torsional plate that creates superior torsion stability, mimicking the support of a traditional welted product while maintaining an outdoor-inspired comfort, fit and design. A dual-density compression molded EVA midsole and a removable PU footbed offers excellent underfoot support and cushioning. An EH-rated abrasion-, oil- and slip-resistant non-marking rubber outsole with signature toe bumper meets Mark II and Satra non-slip testing standards as well as ASTM EH standards as a secondary source of protection should the footwear come in contact with live electrical circuits.
The new men's Dover and St. Paul safety boots featuring KEEN KONNECTFIT will be available online and at select retailers this Spring. For more information, or to find a retailer, visit keenutility.com.