KYOCERA DuraXE Epic FirstNet-Ready Flip Phone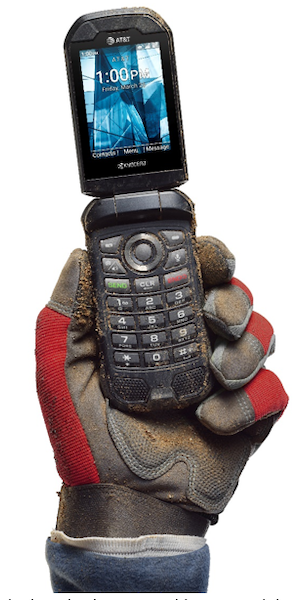 Kyocera International Inc., the North American leader in rugged mobile solutions, launches the military-grade and FirstNet Ready™ DuraXE Epic on the AT&T 4G LTE network.
A compact flip phone built for reliability in harsh conditions, Kyocera's new ultra-rugged device is certified military standard 810H to withstand drops (up to 5 feet onto concrete) and water immersion (IP68 up to 6 ft for 30 min) making it ideal for the public safety, construction and hospitality industries, as well as seniors and anyone looking for a durable, easy-to-use device.
It's also certified Non-incendive Class I Div 2 for protection in hazardous environments, and can be disinfected using alcohol (70% solution) or cleaning wipes. An affordable option, especially for enterprise, DuraXE Epic is available for $269.99 MSRP or for well qualified customers for $9.00/mo on a 30 month installment plan at 0% APR.*
DuraXE Epic is FirstNet Ready™ and supports access to the dedicated FirstNet network core, FirstNet First Priority®, which includes always-on priority and preemption for first responders and the Band 14 spectrum.
Offering highly reliable communication, including AT&T Enhanced Push to Talk** (EPTT), DuraXE Epic has 100+dB dual front-facing loudspeakers with dual-mic noise cancellation for audio clarity; cellular calling with HD Voice; Wireless Priority Service with eMPS and real-time text (RTT) support.
DuraXE Epic also makes an ideal replacement for Remote Speaker Mics (RSMs), using the programmable external buttons to easily communicate — PTT button for EPTT, External Speaker, and Call List keys on top of device can be programmed to channel up and down, and SOS button to call for help (requires Advanced EPTT) — all without opening the device or removing it from its holster.
At 4.36 inches (when closed) and weighing only 6.8 ounces, the device features a fast 1.2GHz, 64-bit Quad-core processor in an ergonomic design with a large, tactile, glove-friendly keypad and buttons, adjustable font size and a clear display for improved readability. An easy access, customizable menu can be set to frequently-used apps; and multiple programmable keys, including SOS*, PTT*, speaker, call list, and four-way navigation key, make the device easy to personalize.
DuraXE Epic has a 5MP auto-focus camera with LED flash and video recorder to capture key images and video, with a non-camera version available for sensitive work settings. A headset jack with camlock securely fastens a variety of productivity accessories, and the long-lasting removable 1770mAh battery with an average talk time of 9.5 hours helps workers stay productive on even the longest days. Battery Care Mode helps extend the lifespan of the battery and Eco Mode helps optimize battery usage. Car Kit Power On/Off Mode turns the device on and off with ignition when installed in the vehicle cradle.
DuraXE Epic is enterprise-ready – offering improved protection for hospitality workers and guests as well as public safety. Precision positioning technology from Skyhook provides improved location accuracy while preserving battery life. When combined with instant PTT communication, employees have one-button access to emergency team alerts with advanced location accuracy inside hotels for any safety or emergency issues.
When utilizing EPTT, the device can also augment companies' LMR networks while in Radio Mode. Device Control Mode enables employers to manage and restrict select features on employees' phones, helping to reduce distractions for improved safety and productivity. DuraXE Epic also supports a mobile hotspot for up to 10 connections* and Enterprise email for productivity on the road.
"We've integrated our ultra-rugged design into a compact feature phone with DuraXE Epic," said Vipul Dalal, Divisional Vice President at Kyocera's Communications Equipment Group. "First responders and enterprise users are looking for a durable, customizable and compact option to help reduce overall costs. A device that focuses on productivity, usability, and offers the ability to cut down on social media use, as well as other potential distractions, can be crucial for first responders and enterprise workers who need to stay laser-focused on the job. The device's safety features also provide tremendous value to hospitality workers and consumers such as seniors, who need the ability to summon assistance at the touch of a button."
DuraXE Epic is part of Kyocera's Total Rugged Solution that helps create business productivity offerings including rugged devices and Business Select service support along with applications and accessories from a large partner ecosystem. For more information about Kyocera's Total Rugged Solution and detailed device specifications, please visit KyoceraMobile.com/DuraXE-Epic.