Kurt Hydraulics Adds Braided Hose Couplings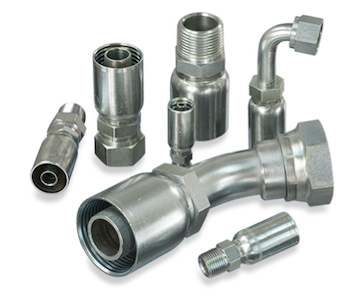 Kurt Hydraulics today announced the vast expansion of its' braided hose coupling line to over 743 styles and sizes. These compression-style hydraulic hose fittings feature RoHS-compliant plating that makes them ideal for a variety of industry applications and deliver superior performance, durability, and quality.
Kurt Hydraulics' braided hose couplings are available with many different end configurations, including SAE, metric, and other styles. Available from 1/4″ I.D. to 1-1/4" I.D., the available variety will make it easy to find the right size and style for virtually all hydraulic applications.
These braided hose couplings are compatible with a wide variety of braided hydraulic hoses including Kurt Tuff Hose, SAE 100 R1, SAE 100 R2, SAE 100 R16, SAE 100 R17, thermoplastic hoses (SAE 100 R7 and SAE 100 R8). All Kurt Hydraulics SAE fittings are made in the USA and available through a network of Distributor and Integrators.
Kurt Hydraulics offers a wide variety of secondary operations in-house, to create our full line of hydraulic hose couplings. We have the capacity for tube bending, tube flaring, welding, crimping, fitting assembly, braising and plating. Kurt Hydraulics is the only manufacturer in the United States that can perform all these operations under one roof. This enables Kurt to keep production costs low, savings that pass on to you, our customer.
About Kurt hydraulics
Kurt Hydraulics is 100% employee-owned and a division of Kurt Manufacturing Company based in Minneapolis, MN. Operating in a state-of-the-art facility with multiple workstations, production lines and integrated automation with marketing, design, engineering, production, assembly and shipping all on site, employees own the manufacturing process from start to finish.
What makes Kurt Hydraulics different? It starts with what we put into our products, passion that leads to profound pride, and the endless desire to deliver perfection on time, every time. We know you deserve and demand our very best. That's why we'll never settle for good enough. Kurt Hydraulics has been a U.S. manufacturer of hydraulic couplings and systems for over 35 years. We offer a full line of hydraulic couplings and a complete line of high-quality hydraulic hose tested beyond SAE specifications. Kurt Hydraulics' hose and couplings are sold through a comprehensive network of distributors in North America.