Larson Electronics 150 Watt Explosion Proof LED Pole Light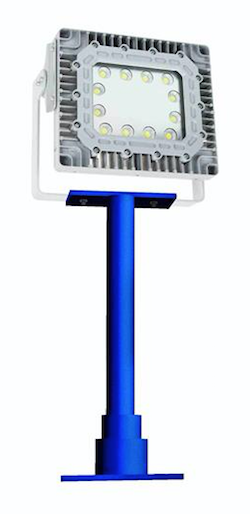 Larson Electronics has released an explosion proof LED pole light with a glare shield rated for Class 1, Class II and Class III environments that produces 17,500 lumens of light and is mounted on a steel pedestal pole.
This 150-watt fixture is a great alternative to hotter-running, fragile constructed traditional units, and is ideal for hot fuel locations, chemical processing plants and many other hazardous locations.
The EPL-SMP.18-150RT-JB2 explosion proof LED pole light from Larson Electronics produces 17,500 lumens of light while drawing only 150 watts.
This pole mounted explosion proof LED light features varying beam angles individually ideal for several environments. A 60° beam is perfect for narrow, confined spaces, while the 125° beam offers a diffused light source less intense in brightness, ideal for general area work. The 140° beam is more ideal for proximity work where illumination of a wider area and even light distribution is a concern.
A color rendering index of 75 which produces colors and details much more accurately than high pressure sodium or mercury vapor luminaries.
The powder-coated, copper-free aluminum alloy body has excellent durability and resistance to vibration and impacts. The EPL-SMP.18-150RT-JB2 is universal voltage capable and can be operated with 100-277V AC, 50/60 Hz without modifications to the fixture.
A low voltage version of this LED fixture that operates on AC/DC voltages from 11-25 volts is also available. This LED light is mounted on a steel pedestal pole and is equipped with a glare shield and an adjustable U-bracket mount for accurate positioning, which can be rotated 360 degrees and tilted up to 180 degrees, giving users freedom to angle the beam as they wish.
With most explosion proof fixtures, the fixture must be returned to the manufacturer for repair work, but the EPL-SMP.18-150RT-JB2 is field serviceable, allowing operators to perform service work on site.
"The EPL-SMP.18-150RT-JB2 is a very powerful lighting solution for outdoor worksites," said Rob Bresnahan, CEO of Larson Electronics LLC. "The pedestal pole and adjustable u-bracket gives operators the ability to customize the angle of the overhead illumination, and the glare shield helps to soften the light for work conditions easier on the eyes."