Larson Electronics 150 Watt Explosion Proof Work Light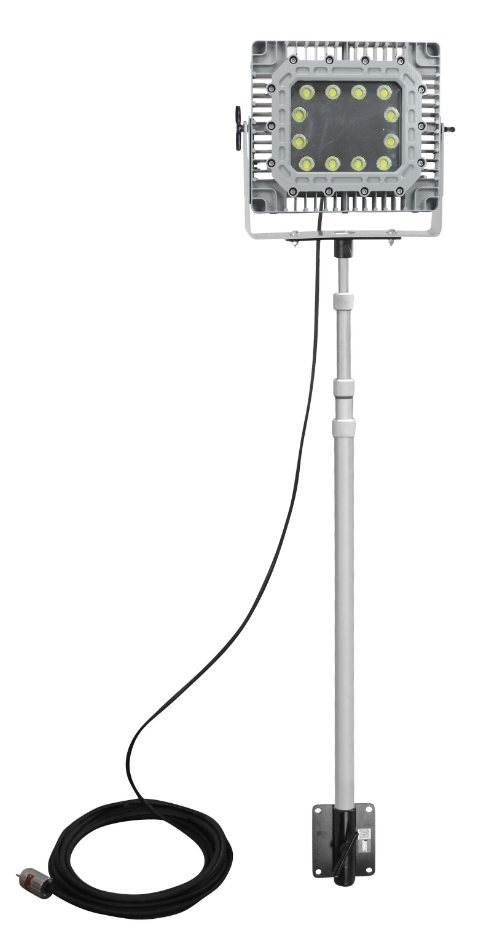 Larson Electronics has announced the release of a 150-watt explosion proof LED light mounted atop a telescoping aluminum pole.
The EPL-APM-150LED-RT explosion proof LED work light produces 17,500 lumens of light capable of illuminating an area 9,500 square feet in size. The telescoping pole mount is designed for permanent mounting operations while offering five foot to 12 foot adjustability.
The LED light head on this unit produces a wide flood beam of light that is ideal for illuminating large workspaces and job sites. The light head on this unit contains 12 LEDs arranged in rows and paired with high purity optics producing a 60 degree flood beam. The fixture carries an IP67 waterproof rating, is dust-proof, and protected against high-pressure jets.
This telescoping LED work light is comprised of a removable LED light head mounted atop an anodized aluminum adjustable pole fabricated with 2.5 inch by 2.5 inch tubing for the first stage, two inch by two inch tubing for the second stage, and one inch by one inch tubing for the third stage.
The tower is anodized and the brackets are powder coated for durability and rust resistance. The EPL-APM-150LED-RT is equipped with a powder coated flat mounting bracket that is easily attached to any flat surface.
This hazardous location LED work light is equipped with 50 feet of 16/3 SOOW oil and chemical resistant cord that is terminated in an optional explosion proof cord cap. The light is universal voltage capable and can be operated with 100 to 277 volts AC.
"Larson's new pole mounted LED work light is suitable for mounting on walls, containers, and utility vehicles that require a durable lighting solution," said Rob Bresnahan, CEO of Larson Electronics. "Featuring LED technology, this unit retains 80 percent of its lumen output after 60,000 hours of use, outperforming comparable metal halide and halogen work lights."
View Larson Electronics' entire line of lighting on the web at www.Larsonelectronics.com. You can also call 1-800-369-6671 to learn more about their products or call 1-214-616-6180 for international inquiries.