Larson Electronics 4 Foot Explosion Proof LED Flood Light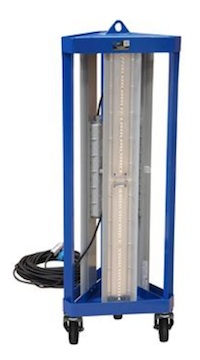 Made in the USA, the EPL-3X100LED-4-WC-100 Portable Explosion Proof LED Flood Lighting system from Larson Electronics is rated Class 1 Divisions 1 & 2 and uses three 48 inch LED light heads to produce a combined 21,000 lumens of light with 360° coverage while drawing only 300 watts.
The EPL-3X100LED-4-WC-100 explosion proof LED flood light system provides 360 degrees of work area coverage with 21,000 lumens of light output. This portable LED light is mounted to a powder coated frame constructed from non sparking aluminum and has three 48" LED lights mounted within the frame.
The LED lights within this unit produces a brilliant flood pattern of light that is ideal for illuminating enclosed areas and hazardous locations where flammable vapors, gases and dusts may be present.
This explosion proof LED lighting system is comprised of three 48 inch LED light fixtures mounted within a portable stand fabricated from non sparking aluminum. This flood light system can be positioned in its upright position to provide an intense flood beam covering 360° around the system, or suspended in its upright or laid down on its side to provide lighting within tanks and enclosed work areas. The triangular frame design provides stability for the flood system when mounted in either position.
A pickeye located on the top of the frame gives operators the ability to lower the flood light system into tanks through manway entries. This fixture is equipped with locking casters, which increases mobility throughout the work space.