Madison Electric Products Smart Shield Nail Guard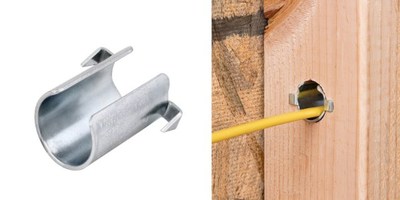 Madison Electric Products is proud to announce the new Smart Shield Nail Guard, the latest product launching from its Sparks Innovation Center, the electrical industry's first crowd-sourced approach to new product development.
Madison Electric Products' Sparks Innovation Center has released the new Smart Shield Nail Guard. This innovative steel nail guard has a unique cylindrical shape that better protects wires and cable in wood framing from stray nails or screws.
The Smart Shield protects wires and cables on both sides of a stud, eliminating the need for multiple standard nail plates. It's also easier to install than standard nail plates and eliminates drywall bulge caused by using surface mounted nail plates.
The unique design also eliminates hand injuries from sharp edges commonly found on traditional nail plates. Smart Shield is resistant to direct strikes from nail guns and screws and prevents damage to electrical power cables that could short the conductors and start a fire. Click here to view our Smart Shield™ demonstration video.
The concept was submitted by inventor Bruce Turner of San Jose, California. Turner has been brainstorming with patentable ideas since he was seven years old. He got the idea for Smart Shield when he was working on the job.
"I was remodeling a home and I realized I can't drywall if my life depended on it, and the traditional nail plates I was using created unsightly bulges," said Turner. "Smart Shield™ is easier to install, but it also made the job safer because it stops you from striking wires from either side of the wall."
This new product is now available to the public for sampling. The first 2,000 inquirers will receive a free sample kit with five Smart Shields™, designed to help them save time before, during and after conduit installation. Visit https://meproducts.net/smartshield to learn more.