Hand Tools: Malco RRW6 Offset Ratcheting Box Wrench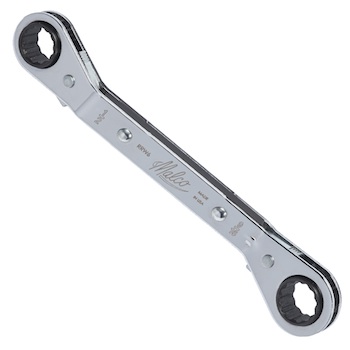 A new Malco RRW6 Offset Ratcheting Box Wrench is ideal for installing or removing fasteners at chain link fence hook-up points. This compact, lightweight wrench provides easy fastener access and two-way ratcheting action, with an effortless handle-swing motion.
Finger switches are readily accessible for quickly changing ratcheting direction.
The 25° offset design maintains clearance between fingers and chain link fabric when fastening fence hardware such as tension bands, brace bands and rail end-cups.
Maneuverable 12-point box heads, at each end of the wrench, grasp standard 1/2 inch and 9/16 inch hex fasteners from multiple angles.
The box heads also keep the wrench in contact with the fastener for superior control.
And through-hole socket openings accommodate any fastener length! Designed for long service life, Malco's versatile RRW6 wrench actually exceeds ASME minimum torque requirements. Hardened sockets and protective nickel chrome plating compliment a solid plastic tool core sandwiched between 1/8 inch (3.18 mm) steel plates to ensure that the wrench will function in cold, wet or dirt encountered on the job.