Metabo HPT 18V MultiVolt Cordless 2,000 Lumen LED Light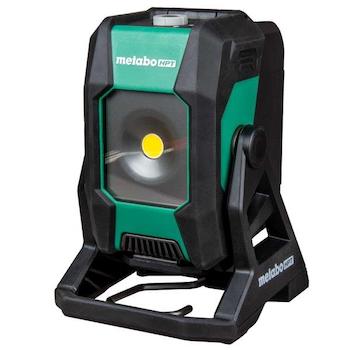 GO illuminate your life with Metabo HPT's latest addition to the MultiVolt System that gives users the added versatility they want in cordless tools. The 18V MultiVoltTM 2,000 Lumen LED Work Light (model UB18DBQ4) is perfect for use on the jobsite to brighten targeted areas or around the home or campground when extra light is needed. With an IP54 rating, neither water nor dust will keep you in the dark- despite the weather.
As an 18V bare tool, the user can decide to GO lighter by using an 18V battery or GO longer with the flexible 18V/36V MultiVolt battery to double the runtime per charge for more light on the go. MSRP: $99
Light up any space with this LED work light thanks to the 30 levels of brightness from 350 up to 2,000 lumens. Lightweight and compact at just 2.6 lbs, it is designed with several convenient mounting options. The free-standing base can rotate 360° (18-stages) for complete freedom to direct light where you want it, or use the retractable hook to hang from rafters or a tree limb, or install on a tripod (not included) using the 5/8" threaded screw hole.
A battery charge indicator allows the user to see the remaining battery charge without having to open the battery cover for easier monitoring. This is the new go-to work light for any time or application. Get up to 32 hours of runtime on the 5Ah battery BSL36A18/371751M (sold separately).
This cordless LED light is part of the ever-expanding MultiVolt system power tools and lifestyle accessories from Metabo HPT. GO with the 2,000 lumen LED work light that won't let you down, delivering brightness and versatility for any jobsite or home. It is backed by Metabo HPT's 2-year tool body warranty. For more information including the full line of Metabo HPT products and support, please contact 1-800-829-4752 or visit metabo-hpt.com.