Hand Tools: Milwaukee SHOCKWAVE Expand System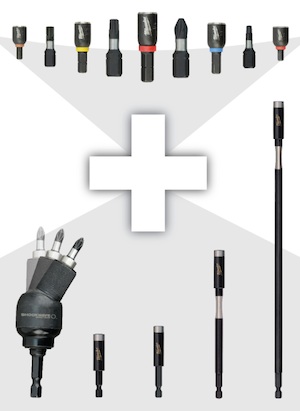 Milwaukee Tool Corporation continues to build on the success of the Milwaukee SHOCKWAVE Impact Duty line that launched in 2009, with the SHOCKWAVE Expand system, which gives professionals more fastening application solutions, while carrying less product in their tool box.
Expand enhances the existing insert bit program with new extended length magnetic bit holders and insert nut drivers that together are designed to cover more applications with fewer products. As with all products in the SHOCKWAVE family, Expand is built for extreme durability and up to 10X more life in impact drivers than standard bits.
To match the breadth and flexibility available with the 31-piece Expand system, users would typically need to carry over 130 unique accessories.
With SHOCKWAVE Expand, Milwaukee is launching new 6" and 12" magnetic bit holders to complement the existing 2" and 3" holders. Along with the innovative 30-degree Knuckle pivoting bit holder, SHOCKWAVE offers a holder for virtually every impact application. While traditional systems are focused on just insert screwdriving bits, Expand goes further with the launch of five insert style nut drivers.