Muck Boot Chore MAX Boots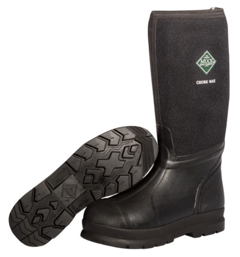 The Original Muck Boot Company, building the most comfortable, protective and reliable boots on the market for the past two decades, celebrates its 20th anniversary in Fall 2019 by reigniting the spirit of the styles that first launched the brand.
Muck prides itself on having built a loyal community of consumers who rely on its products' performance and 100 percent waterproof protection every day. With the Industrial community in mind, it introduces the Muck Chore MAX, a boot 20 years in the making.
The Chore MAX is a state-of-the-art boot that was designed for the toughest conditions. Waterproof construction keeps feet dry, and an SRC slip-resistant outsole provides grip on slick surfaces while also offering cut and abrasion resistance.
For additional visibility, workers can easily roll down the upper to expose Industrial Yellow linings for jobsite protection, while a composite toe and non-metallic plate provide safety and stability with great performance.
Feet are able to breathe and stay cool thanks to the 3D Supermesh linings for increased airflow. Depending on the job needs, the Chore MAX is available with either a Spandura shaft for durable, flexible protection or in full-rubber coverage.
"Whether it's pouring rain or you're pouring concrete, the Chore MAX boot is what you will want on the job for your muck-filled days," said Xavier Kawula, product manager for Muck. "All leather, even waterproof leather, will absorb water over time – losing strength and thus becoming more prone to fail. While leather boots will start to break down, Muck's rubber neoprene construction doesn't absorb water, so they never go into that water-saturated failure state. The Chore MAX is dual certified under both ASTM and CSA standards – this, along with the comfort, protection and safety elements it offers, will make you – and more importantly your feet - glad you made the investment."
For fall 2019, Muck also relaunches its iconic Chore Classic boot, a favorite for farm and ranch workers, with additional features and benefits. Two new colors – one all over Brown, and the other, a Brown with classic Mossy Oak Bottomland print - will both be available with a Blaze Orange lining.
Additionally, Muck introduces a roomier version of its Chore Classic with the Chore XF, offering an extended fit with a gusset for easy on and off, and a personalized, adjustable fit with an additional 4 inches of room. The Chore XF also features Blaze Yellow Hi Viz linings for additional safety, and a steel toe and non-metallic plate for increased job-site protection. Available in both Men's and Women's, the boots are fully certified for the U.S. and Canada under the ASTM as well as the CSA.