Next Wave Automation 7 Watt Solid State Laser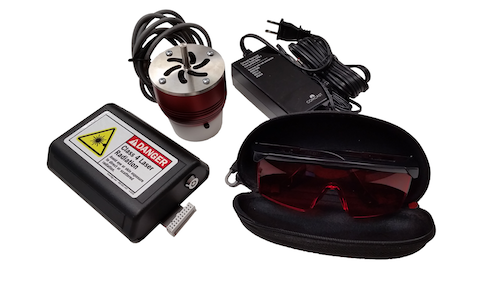 Next Wave Automation has just introduced a 7 watt, plug-and-play, solid state laser module.
The 7 Watt Laser Module has enough power to engrave wood and leather, and can cut fabric, veneer, and most woods up to 1/8" thick.
The new module can be easily mounted or removed by simply inserting it into the router collet – the router itself does not need to be removed.
Next Wave Automation's 7 Watt Solid State Laser Module is made in the USA, will include all necessary components and is available now.
The 7 watt module is fully compatible with all of Next Wave Automation's CNCs and can be adapted for previous, non-pendant CNC Sharks.
Highlighted features of the new, 7 Watt Laser Module include:
Compatible with any Next Wave Automation CNC
Easily mount or remove by simply chucking it into the ¼" router collet
Powerful enough to engrave almost any species of wood, even leather
Cuts veneer, woods up to 1/8" thick, foam, fabric, paper
Integrated cooling fan
Soft-start for diode protection
True PWM control for smoother gray scale images
Digitally isolated control input
LED status lights for input laser enabled and laser on
ESD protection
Thermal shutdown control
Over burn compensation control
Laser test functionality for easy and accurate laser positioning
Meets FDA current laser safety guidelines and is designed to fully comply with high powered Class 4 laser regulations:
Keyed switch that enables the laser
Safety Goggles for 445nm Lasers
Multiple safety interlocks
Power fault protection preventing the beam from activating after a power failure
LED indicators that indicate different states including armed and when the laser is active
Precision laser trimmed regulators provide constant current to the laser
Made in the USA
Since the introduction of the CNC Shark in 2007, Next Wave Automation has introduced an entire line of Desktop and Small Shop CNC machines and accessories and has won several industry awards for its innovative products. Next Wave Automation products are distributed across the United States by an ever-expanding dealer network.
Visit www.nextwaveautomation.com or call 419-318-4822.