PaintLine PSDR System for Spraying and Drying Cabinet Doors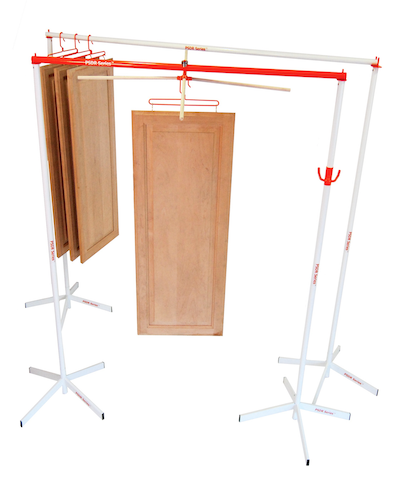 PaintLine has just extended its PSDR Series, an integrated system designed for spraying and drying cabinet doors, with Euro Finishing Clips [EFC]. EFCs are placed in the cup holes and cabinet doors are then hung on the PSDR's hangers for "all-sides" spraying and drying. The PDSR System can accommodate up to 50 cabinet doors in just 18 feet of lineal space.
"By using the PSDR with Euro Finishing Clips, the cabinet door painting process is transformed from being a cumbersome, time and space-intensive process to one that requires minimal effort and working area," says Kyle Robinson, PaintLine president. "Simply remove the door hardware, attach the EFCs and hangers, and start the job." Robinson goes on to say that, "The PSDR is designed for foolproof, tool-free assembly in less than 10 minutes. Tear down is just as fast and the entire system fits into ballistic nylon bags for convenient storage and easy transport to the next job site."
The PSDR System with EFCs provides perfect and completely unmarred surface results. Euro Finishing Clips attach to cabinet door cup holes, and then fit over one of PaintLine's hangers. The hanger is placed on a spinner assembly designed to give the painter complete control and "all-sides" access when spraying. After painting, the door on the hanger is simply transferred over to the drying line where it will hang until ready for door hardware and installation. The PSDR's 18 feet of drying line is enough space for drying up to 50 cabinet doors.
Users can also choose to use the original PSDR System of hanging cabinet doors by screwing cup hooks into the least visible edge of a cabinet door and then hanging the door on a PSDR hanger.
PSDR EFC Hinge Hooks – Set of 100 has an MSRP of $108.00
Since the 1990s, PaintLine products have provided innovative, practical and economical drying rack and spray stand solutions for painters, cabinet makers, millwork shops, residential remodelers, renovators and DIYers. PaintLine is a Merchandising Systems Inc. brand, a leader in metal fabrication for material handling and retail store fixturing for over 50 years. PaintLine is headquartered in Menlo Park, CA. For more information, go to www.thePaintLine.com or call 1-510-477-9100.