Gobi Heat Duck Cotton Workwear
Working outside comes with benefits like enjoying the fresh air, ensuring you receive your daily dose of Vitamin D and overall boosting your focus and creativity. Yet when winter sneaks its way in, an outdoor office can be a lot less appealing in the frigid air.
Gobi Heat apparel is launching their new Duck Cotton Workwear jacket and vest for those long cold days. The new product includes:
Up to 9 hours of battery life
Conductive thread elements: 99% energy efficient compared to carbon fiber
3 heat settings: low, medium, and high
13.4 oz. Duck Cotton Material
Compact battery that is both comfortable and discreet
Built in shoulder gussets for maximum flexibility, nylon interior, elastic cuffs, removable hood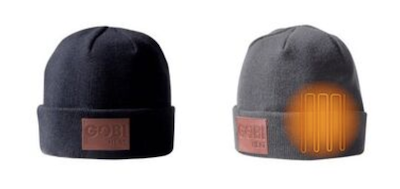 Not only does Gobi warm your body but is also giving "hot head" a different meaning. With their trendy and functional beanies you'll never get a "head cold" again. The heated beanies include:
Up to 7.5 hours of battery life
Cotton/Acrylic fiber blend material
Heat zones right over each ear
Comfortable one-size design
Don't let the weather keep you from your enjoying your outdoor office. Gobi heat is here to keep you warm during the winter storm.