PaintLine ProDryingRack EX-Plus Heavy-duty Rack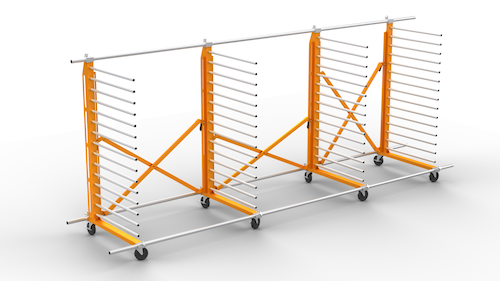 ProDryingRack EX-Plus Series features up to 15 feet of mobile, horizontal rack space and 1,800 lbs of weight capacity
PaintLine has just announced that it will introduce a new, heavy duty rack series, the ProDryingRack EX-Plus. The PDREX-Plus has 15 removable shelves, can be configured with up to four towers, providing from 20" to 180" of horizontal rack space, and has a weight capacity of up to 1,800 pounds. Each tower includes heavy duty, 6" locking casters and anti-torque stabilizers for rolling the entire rack to the desired shop area even under load. PDREX-Plus will be available later this year.
The ProDryingRack EX-Plus Series uses the two-towered, expandable PDREX as the base rack configuration for the series. The PDREX, a current PaintLine product offering, has 15 shelves/levels, expands from 20" to 60" and has a weight capacity of 900 LBS.
PaintLine will be previewing the PDREX-Plus at the upcoming, online tradeshow, IWF Connect, held Oct. 26th – 30th. Registration for the tradeshow is FREE.
PaintLine provides innovative, practical and economical drying rack, spray stand, spray booth and other process-oriented product solutions for cabinet makers, millwork shops, painters, remodelers, and DIYers. Its products are sold direct-to-consumer as well as through a growing number of online and brick and mortar retailers.
Along with the new ProDryingRack EX-Plus Series, PaintLine products include:
Portable Jobsite Spray Booth - a precision-manufactured, fully collapsible, aluminum frame that uses disposable plastic liners to protect the jobsite while spraying non-flammable, non-combustible finishes. This walk-in, open-faced booth sets up in minutes without tools, and packs into one carry bag for easy transport.
ProDryingRack - a 50-shelf drying rack that rolls on casters, with removable shelves that can hold 25 pounds per shelf and up to 50 cabinet doors in 6-1/2 square feet of space. Assembles and disassembles easily with just 4 bolts.
ProDryingRack TT - a tabletop drying rack that can hold 20 cabinet doors up to 25 pounds each, stores flat to help manage space and features "brains optional" assembly with just 4 wing nuts.
ProDryingRack EX - a heavy-duty and yet highly mobile rack that easily expands from 20" to 60" with a quick release clamping handle that locks in the desired width. Fifteen levels featuring 30" tubes support up to 50 pounds per level and can be easily removed to accommodate large or awkward sizes. Includes heavy duty casters.
ProDryingRack SD - an integrated system designed for painting and drying cabinet doors in a vertical orientation with the least amount of effort and space. Parts hang for spraying of all sides in one step. Eighteen feet of drying line can accommodate up to 50 cabinet doors.
SprayTwirly - an innovative spray stand with three, retractable metal arms with integrated, adjustable paint pyramids for securely holding cabinet doors. Allows the operator to stand in one spot to spray the edges and top surface before transferring to a drying rack.
ProCart - a customizable material handling cart for transporting items around the shop or jobsite. Weight capacity of 2,000 pounds.
Since the 1990s, PaintLine has provided innovative, practical and economical drying rack, spray stand and other process-oriented product solutions for cabinet makers, millwork shops, residential remodelers, renovators, painters, and DIYers. PaintLine is a Merchandising Systems Inc. brand, a leader in metal fabrication for material handling and retail store fixturing for over 50 years. PaintLine is headquartered in Menlo Park, CA. For more information, go to www.thePaintLine.com or
call 1-510-477-9100.