Cables & Lights: Pelican ProGear 2760 Headlight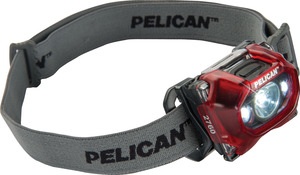 With a tough lightweight lighting option in mind, Pelican Products, introduces the feature-rich Pelican ProGear 2760 LED Headlight as part of its popular consumer line.
Equipped with a wide range of features the headlight works in multiple applications and situations. Features include high, low, night-vision-friendly red and flashing modes. Additionally, it features a downcast mode to provide optimal close quarter reading light for use in tents, engine compartments and underneath counters.
Multiple mode performance includes:
High (133 lumens / 2 hours, 15 minutes)
Low (90 lumens / 3 hours, 30 minutes)
Flashing (93 lumens / 5 hours)
Downcast (40 lumens / 14 hours)
Available in black, white and translucent red, the 2760 LED is constructed of water/weather resistant polymer and pivots to a 45 degree angle to direct clean brilliant light where it's needed.
Weighing in at just over 3 ounces with three AAA batteries (included) it comes with a cloth strap (comfortable for bare heads) and a full-time battery life indicator.
Backed by Pelican Products' Legendary Lifetime Guarantee of Excellence the 2760 LED has an MSRP of $45.95.