Adhesives & Sealants: Polyglass Polybrite 90 and 95 Silicone Roof Coatings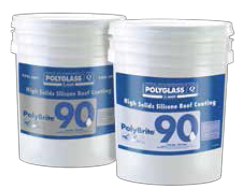 In response to the increasing demand for durable white reflective roofs, Polyglass U.S.A., Inc. has launched its latest white roof system option with a line of advanced silicone roof coatings products that include water-based and solvent-based options, primers and accessories.
Polyglass silicone roof coatings are inorganic, moisture-cured coatings that provide a seamless, flexible and durable protective barrier against weather elements.
Benefits of using Polybrite silicone coatings on roof restoration projects, as well as new construction, include:
Excellent resistance to weathering including UV radiation, extreme temperatures, rain, ice and snow
Improves ponding water protection
Can reduce energy costs by decreasing roof surface temperature
Fungal and algal resistant – even in high temperatures
NSF Protocol P151 approved for rainwater catchment (white only)
50-year limited warranty
Polyglass offers two silicone roof coating options as part of its Kool Roof Solutions - Polybrite 90, a premium grade, high solids, single component silicone roof coating; and Polybrite 95, a solvent-based, ready-to-use silicone roof coating.
Both Polybrite 90 and Polybrite 95 meet or exceed the requirements of ASTM D6694 and ASTM C1305; are UL Class A rated and will soon be ENERGY STAR approved; rated with the Cool Roof Rating Council; Factory Mutual approved, Miami Dade County compliant and Florida Building Code approved.
Polybrite 90 and Polybrite 95 are available in White and Kool Grey colors and can be purchased in 5 gallon pails and 50 gallon drums.
For more information, call 800-222-9782 or visit www.polyglass.us.