ROLLINGDOG Tools Smooth Roller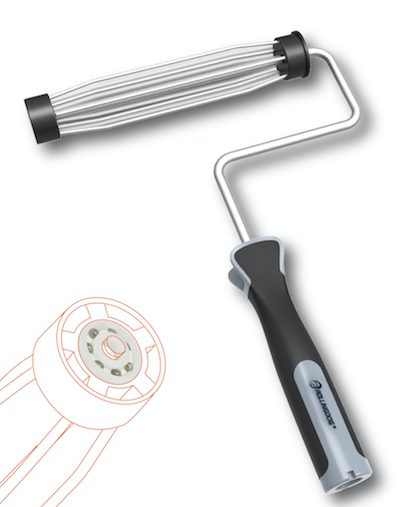 ROLLINGDOG Tools this fall will launch their new 7-bearing smooth roller system that not only provides the smoothest roller application on the market, but also provides comfortable and quiet use.
ROLLINGDOG Tools is proud to introduce the premium quality roller frame designed for the professional painter that is going to use it for hours at a time.
Contractors have joked that the noise their frames make is how they know their employees are working, but the noise can be distracting and is mainly caused by things not operating efficiently together. This is where ROLLINGDOG's seven bearing cage system comes into play, providing quiet, smooth easy rolling that is unmatched in the market.
The seven nylon bearings are kept in a specially designed sealed component of the frame to ensure a long, well functioning smooth life.
Another feature unique to this roller frame is the extra wide concaved thumb grip at top offering maximum control and comfort with use. More companies are developing smaller handles since they are most commonly used with extension poles, but ROLLINGDOG Tools recognizes the value of this feature for those times when you don't need extension.
The Smooth Roller will hit stores throughout America this fall. The new roller will be available in the standard 9 inch size frame initially and later in professional sizes of 12 and 14 inch.
ROLLINGDOG Tools is an international business that was created in 2013 as a paint tool manufacturing company, with a focus on innovation and high quality standards. By continually doing research and getting feedback from professionals ROLLINGDOG Tools continues to offer new products to lead innovation in the painting industry.
ROLLINGDOG Tools recently partnered with GDB international inc. which will allow use of their vast distribution and warehousing set up throughout America. This means that replenishing your ROLLINGDOG products will be quick and easy. You can find out more at www.rollingdogtools.com