Sandvik Coromant CoroDrill 870 Exchangeable-tip Drills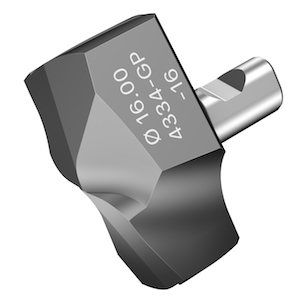 Cutting tool and tooling system specialist Sandvik Coromant is releasing three new grades for its popular CoroDrill 870 exchangeable-tip drill. GC4344, GC3334 and GC2334 have been developed to offer significant tool life improvements and more predictable wear patterns, all while maintaining the high penetration rates and productivity for which the concept is renowned.
The new GC4344, GC3334 and GC2334 grades for CoroDrill 870 are produced with Zertivo, a unique PVD (Physical Vapor Deposition) production technology developed by Sandvik Coromant. Zertivo technology amplifies the already exceptional benefits of the grades, maintaining the advantageous properties of its predecessors and bringing out significant improvements when it comes to properties such as edge line security, chipping resistance and overall wear resistance.
Johan Ekbäck, Global Product Manager at Sandvik Coromant, says: "Drilling is often carried out late in the manufacturing process, with previous operations already having enhanced the initial component's value. The drilling application, although seemingly simple, is a complex operation that can lead to significant consequences if the tool malfunctions or is run beyond its capacity.
"That is why, when it comes to wear, our customers want to keep their results predictable and consistent, securing a drilling process that can be relied on. In releasing the new CoroDrill 870 grades, our ambition has been to provide customers with increased tool life and reliability in their drilling operations."
Available in various geometries, the latest grades are highly versatile and cover applications in most ISO materials, although they are optimized for ISO P (steel), ISO M (stainless steel) and ISO K (cast iron). All grades are PVD-coated using Zertivo and are designed to deliver specific enhancements related to common wear issues in drilling.
Designed for the intermediate hole-tolerance range of H9–H10, the CoroDrill 870 exchangeable-tip drill saves time and reduces cost per hole. The drills can be tailored to best support applications through a selection of diameter, length, step or chamfer possibilities.
CoroDrill 870 is available in a diameter range from 10 to 33 mm (0.394 to 1.299 inch) and a depth capacity from 3 × D to 12 × D.
For more information please visit www.sandvik.coromant.com/en-us/products/corodrill_870/pages/default.aspx