Sarge Knives G-Force Black G10 Dynamic Lock Folding Knife

New from Sarge Knives, the G-Force Black G10 Dynamic Lock Folding Knife features a dynamic lock mechanism that provides incredible strength when the blade is fully opened. A pin sits across the width of the handle and is seen on either side as a stud. When the blade is opened the pin sits in the groove of the tang locking the blade into place. To release the blade, easily pull the pins up using your thumb and index finger.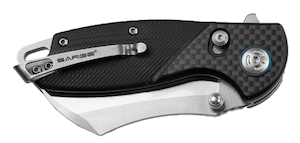 The 2.75" modern sheepsfoot blade is manufactured with D2 steel that is high-carbon, high-chromium and high-end. This everyday carry knife includes a pocket clip strategically placed at the bottom of the handle so that the ambidextrous thumb studs are easily accessible for quicker access to the blade. This knife is one of a kind!
Specifications
Blade: 2.75"
Steel: D2
Finish: Satin
Handle: CNC Carbon Fiber Black G10
Closed: 4"
Open: 6.75"
Lock: Patented Dynamic Lock
Includes: Pocket Clip
Features: Ball Bearing Pivot System, Modern Sheepsfoot Blade
Packaging: High Quality Multi-Fold Corrugated Box