Material Handling: Siegmund Professional Extreme 750 Welding Tables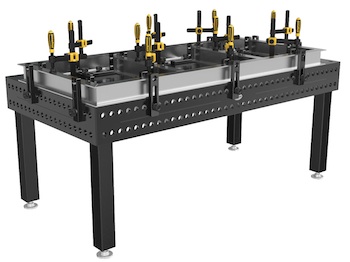 Strong Hand Tools, manufacturer of Strong Hand Tools Welding Clamps, BuildPro Welding Tables, and North American Distributor of German made Siegmund High Precision Welding Tables, proudly introduces the New Professional Extreme 750 Siegmund Welding Tables, the hardest, most durable and extraordinarily flat welding tables available in the world.
Constructed from premium through-hardened tool steel, the Professional Extreme 750 Welding Tables are finished with a Plasma Nitride treatment, resulting in a double-hardened table that will last a lifetime. This newly optimized hardening process results in a deep, hard case that prolongs the life of the table surface, protects against stroke impact, and creates a glossy black shine.
Plasma Nitration is an unrivaled surface hardening and tempering treatment providing a more wear, and corrosion-resistant surface. The Professional Extreme 750 tables have a surface hardness of 750 HV (~60 HRC).
Choose from System 28 (28 mm boreholes) or System 16 (16 mm boreholes).
For more information on the Strong Hand Tools Siegmund Welding Tables, call Marketing Manager Pamela Farley at: 800.989.5244 Ext. 213; e-mail: pam@stronghandtools.com. Visit Strong hand online at: www.stronghandtools.com.