Simpson Strong-Tie 8x8 Innovative Moment Post Base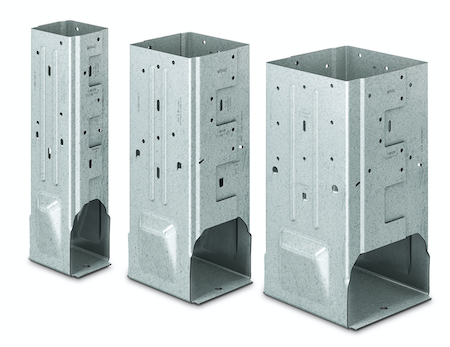 Simpson Strong-Tie, the leader in engineered structural connectors and building solutions, has received code listing from the International Code Council Evaluation Services (ICC-ES) for the largest size of its innovative MPBZ moment post base.
The MPBZ was the first product in the building industry to receive ICC-ES code listing for moment resistance in 2018 for its 4x4 and 6x6 sizes, and is now the only one to have code listing for the 8x8 size.
As a first-of-its-kind product, there were no code acceptance criteria for the MPBZ. Simpson Strong-Tie worked extensively with the ICC Evaluation Service to develop criteria for code listing, a process which included industry expert input, public hearings and code enforcement official committee review and approval.
With the inclusion of the 8x8 post base, all sizes of the MPBZ are now code listed under ICC-ES ESR-3050 for uplift, download, and lateral resistance, as well as for allowable moment in reinforced concrete footings.
The MPBZ line of column and post bases provide moment resistance by encapsulating post or column bases with an innovative overlapping sleeve design to resist rotation at the base. MPBZ-reinforced concrete footings provide higher load values for the connection, giving designers more flexibility in creating larger open structures, including carports, fences, and decks.
"Increasingly, we are seeing more and more structures being built that require larger post bases. Now we have a code-listed, off-the-shelf solution that has the size and optimized load values from reinforced concrete footings to provide an ideal foundation for those structures," says Simpson Strong-Tie Vice President of Connectors and Lateral Systems Sam Hensen. "This code-listed solution makes it easier for engineers and contractors to choose the right product for their larger structures."
For homeowners, engineers, and architects, the MPBZ line opens the playbook to new design possibilities by allowing for the more expansive openings now trending in the construction of outdoor living spaces. MPBZ moment bases spare engineers the labor of complicated, customized designs and calculations and are also fast and easy to install, providing contractors a productivity and efficiency boost. In particular, built-in tabs provide the required 1" standoff to resist post decay while eliminating the need for multiple parts and assembly time.
Additional features of the MPBZ line of moment bases include:
Durable 12-gauge steel fabrication
Long-lasting ZMAX coating for protection against corrosion
Additional holes for attaching trim material
Weep holes for optimal water drainage
Strong-Drive® SDS Heavy-Duty Connector screws included for installation
Installation holes for guidance during concrete placement
Simpson Strong-Tie recommends an annual inspection of connectors used in outdoor applications. If significant corrosion is apparent or suspected, then the wood, fasteners, and connectors should be evaluated by a qualified engineer or inspector. For more information on the code-listed MPBZ, visit strongtie.com/mpbz.