Streamlight Portable Scene Light II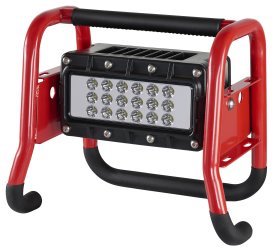 Streamlight Inc., launchs the groundbreaking Portable Scene Light II, a 10,000-lumen rechargeable, waterproof scene light featuring a versatile steel frame and 360° rotating head for precise aiming.
With zero deployment time, the Portable Scene Light II requires no set up and is easily used in rapid response situations. The hooked feet of the light are designed to hang on doors, framing and guard rails. The innovative frame can be stacked for up to three units, creating a bright light tower effect with even more lumens. The 360° rotating head of the light allows easy aiming for maximum light in every position.
"The Portable Scene Light II is the brightest, waterproof, rechargeable scene light on the market today," said Streamlight Vice President, Sales and Marketing, Michael F. Dineen. "The steel frame is virtually unbreakable and offers powerful brightness at the scene of a structural fire, or in any situation involving water or smoke. This versatile new tool is also ideal for such tactical and industrial uses as lighting triage centers, accident scenes and vehicle check points, and inspecting construction sites and remote equipment."
Featuring five intensity levels, the Portable Scene Light II features a toggle switch on the digital display that allows users to adjust up or down for brightness and run time. The user can change the output any time as needed.
The light offers a range of brightness and run times, including a maximum setting for 100% brightness (10,000 lumens) with a run time of 2 hours; and a low setting of 20% (2,300 lumens) for 11 hours. Featuring 18 power LEDs within wide-pattern parabolic reflectors, the light provides a smooth, high lumen flood pattern.
The Portable Scene Light II is powered by two lithium ion battery packs that charge in 6 hours. Batteries will continue to charge and the light will continue to operate while plugged into an AC or DC power source.
The Portable Scene Light II's high-impact, thermoplastic housing is mounted in a virtually indestructible alloy steel frame. The light is IPX7 rated and waterproof to 1 meter for 30 minutes.
Available with a red frame, the Portable Scene Light II has an MSRP of $1,035.00 and comes with Streamlight's Limited Lifetime Warranty.