Cords & Lights: Streamlight ProTac HL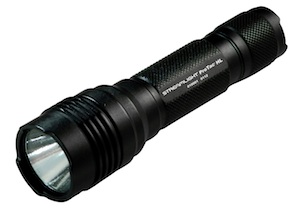 Streamlight introduces the extraordinarily bright ProTac HL, a high lumen light that delivers 600 lumens and 16,000 candela peak beam intensity. Designed for maximum illumination applications, the new light is Streamlight's first programmable, handheld, lithium battery-powered flashlight.
Featuring Streamlight's new TEN-TAP programming, the ProTac HL enables users to select among three programs to suit their preference or operating needs: high/strobe/low (the factory default setting); high only; or low/high.
In addition to its high lumen light and candela output, the ProTac HL provides a run time of one hour and 15 minutes and a beam distance of 253 meters on the high setting. On the low setting, the light delivers 33 lumens and 800 candela over a beam distance of 57 meters, and 18 hours of runtime. The strobe setting provides 2.5 hours of continuous run time.
The ProTac HL features a C4 LED that is impervious to shock with a 50,000 hour lifetime. The light is fabricated from 6000 series machined aircraft aluminum with an anodized finish, and includes a convenient multi-function, push-button, tactical tail switch. This tail switch provides easy, one-handed operation of the light's momentary, variable intensity, or strobe modes.
The ProTac HL measures 5.40 inches in length and weighs 5.6 ounces.