Subaru Adds Gear Reduction to OHC Engines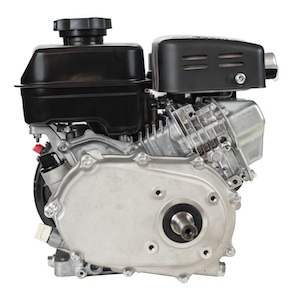 Subaru Industrial Power Products announces the addition of 2:1 and 6:1 gear reduction technology to its line of overhead cam engines — an industry first.
Subaru added the gear reduction to meet growing customer demands for Subaru power in a broadening range of applications, allowing rental centers and contractors to standardize with Subaru and have a single point of contact for parts and service.
Subaru's small engines can now be matched with full product lines within the lawn-and-garden, recreational and concrete construction industries.
"Customers are asking for Subaru more and more, because our engines offer the most technologically advanced design, the lowest total cost of ownership and are backed by the industry's best warranty. Gear reduction allows us to answer those demands and to become the primary engine supplier across the board for small engine powered applications," said David Frank, Subaru vice president of sales and marketing. "Rental centers, dealers and even end users appreciate the simplicity and related time savings that come with having only one type of engine to maintain and a single source for replacement parts."
The 2:1 gear reduction opens up new applications in go-karts and sod cutters, while the 6:1 gear reduction provides additional power opportunities in turf rakes, overseeders and aerators as well as concrete mixers and buggies. Subaru sees opportunities to diversify even further into other applications that benefit from gear reduction. 
Subaru was the first manufacturer to utilize high performance chain-driven overhead cam technology in the industrial air-cooled market. OHC technology benefits users with more power, easier starting and quieter operation than same-class competitive engines.
Adding gear reduction to OHC engines is just the latest in a long line of innovations Subaru has offered to its customers. Subaru will start releasing gear reduction technology on its EX and SP series engines in April.
For more information: Subaru Industrial Power Products, 905 Telser Road, Lake Zurich, IL 60047; 847-540-7300: sales@subarupower.com; www.subarupower.com