Blades: TASK Signature Saw Blades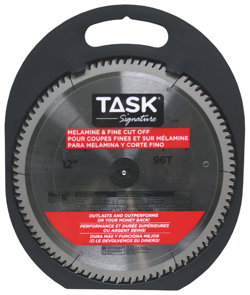 TASK Signature Circular Saw Blades bring an unprecedented level of precision and durability to the retail tool channels in North America. These 10" and 12" blades – designed for table saws, mitre saws, and radial arm saws – feature premium C4 Micrograin carbide for ultra-long life, oversized teeth for numerous sharpenings, laser etched specs and sharpening instructions.
They feature the tightest guaranteed total runout tolerance available — less than 0.100 mm (0.004"). This tolerance is so tight that printing on the surface of the blades could put them out of tolerance, which is why TASK Signature blades are laser etched instead.