Trend Air-Stealth P3 Half Mask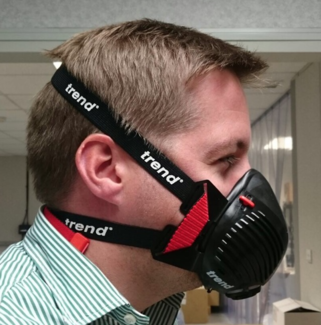 A new generation P3(R) half mask has been introduced by Trend with a low profile design that offers less breathing resistance and better filter efficiency of 99.99%. The mask offers maximum respiratory protection for the construction and woodworking industries.
It will protect against airborne particles, oil aerosols, mists, welds and fumes. The unit is supplied with a pair of replaceable HEPAC (High Efficiency Particulate Air Composite) media filters that provides optimal efficiency in both humid and non-humid environments.
The low profile compact design has grills to protect the filters and a downward facing exhalation valve to reduce misting of safety glasses. The large non-return valve offers low breathing resistance.
An integral sample port and plug on the mask allows non-destructive quantitative face fit test fitting. The one-piece strap is easily adjusted and has a quick release clip fastener.
The half mask can also be used for metalwork, agriculture, silica dust, glass fibre, stonemasonry/slate and ceramics.
The AIR STEALTH is available in two sizes small/medium and medium/large, and is supplied with a storage bag. Accessories in include a plastic storage box and nuisance filters.
Features:
New generation of half mask ergonomically designed with low profile design.
Offers less breathing resistance.
Better filter efficiency.
Less clogging pressure and inward leakage.
Approval P3 (R) APF20 X WEL (UK). APF10 USA
P3 filter 99.99% airborne particles.
Exhalation valve moved to bottom of face piece, ensuring no exhalation fumes steam or fog of any glasses/visors
Protective grill covers 100% of filter service area.
Grill protects filter from moisture and particulates, ensuring it performs better in clogging pressure and filtration efficiency.
Unique integral sample port and plug to allow non-destructive face fitting
Large non-return exhaust valve.
Single piece head and neck strap with quick and easy pull back method strap mechanism for easy fitting and removal, with neck clip lock, providing more hygienic method when removing.
Manufactured from high-grade materials, odour free, non-allergenic. TPE mask body is latex and silicone free.
Twin HEPAC (High Efficiency Particulate Air Composite) pleat encapsulated design filter provides 99.99% filtration of airborne particles and aerosols at 0.3 micron and above.
Sample port to allow non-destructive quantitative face fit test fitting.
Lightweight 131g.
EN & CE certified. NIOSH approved (TBA).
Nominal Protection Factor (NPF) 48. Maximum external concentration up to 48 x TLV (threshold Limit Value)
Sizes of mask Small/Medium and Large.
Spare filters sold in pairs.
Accessory heavy-duty storage case accessory with strap.