Triplett CamView5 IP Pro Security Camera Tester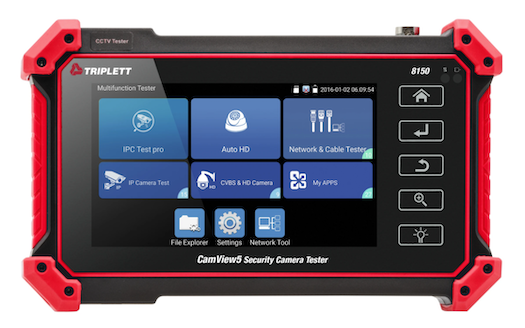 Triplett Test Equipment, a leading maker of test equipment tools, highlights the innovative 8150 CamView5 IP Pro, a high-resolution, all-in-one security camera tester with Wi-Fi hotspot.
The compact, lightweight CamView5 IP Pro is designed for the installation and maintenance of IP cameras, analog cameras, TVI, CVI, and AHD cameras, as well as for testing 4K H.264 /H.265 video. The CamView5 features HDMI output and a built-in Wi-Fi hotspot for easy connectivity with Wi-Fi-connected cameras.
With its combination of a 5" touch screen and key buttons, the CamView5 IP Pro is very user-friendly. This user-friendly design, portability, and many other functions make the CamView5 IP Pro, an affordable and essential tool for all installers and technicians.
The CamView5 unit supports ONVIF PTZ and analog PTZ control and is compatible with more than 30 protocols. Other functions include providing 24W PoE power, PING and IP address searching, DC 12V 3A power output, command data monitoring, and much more.
The tester comes complete with a lithium-ion battery with a 4-hour charge, AC adapter/charger, DC power cable, BNC cable, RS485 cable, audio cable, wrist strap, and a carrying case.
For more information about Triplett's 8150 CamView5 IP Pro, visit https://www.triplett.com/products/8150?_pos=1&_sid=98c36aa94&_ss=r
To find a Triplett distributor near you, please visit: https://triplett.com/store-locator/ . Or to order online, please visit: https://triplett.com/online/ .