True Temper Striking Tools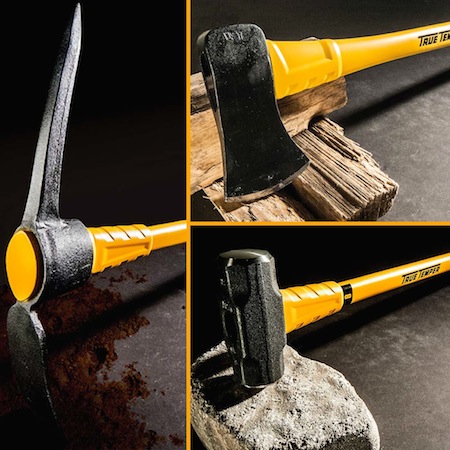 The AMES Companies, Inc., a leading American manufacturer and global provider of lawn and garden products and jobsite tools, is pleased to introduce a full line of striking tools from its True Temper brand. The line consists of 45 tools, including sledge hammers, axes, mauls, picks and mattocks. Products will be offered in a choice of either wood or fiberglass handles. The new line addresses end-user needs with these product enhancements:
Handle overstrike protection to help prevent handle damage and breakage
Comfort grips (TPE) on fiberglass handles to lessen end-user fatigue and help protect against blisters and calluses
Re-engineered head to handle connections to increase retention and tool life
True Temper striking tools are available at retailers beginning April 2019. For more information, please visit www.true-temper.com or call 1-800-393-1846.
The True Temper brand, established in 1808, has long been a provider of quality tools and proudly manufactures the sledge hammer, axe and maul heads in Falls City, NE. The line's wood handles are processed in wood mills located in the USA and tools are assembled in Carlisle, PA. Customer service is also provided from the Camp Hill, PA location.