WORX 20V Power Share 5 Inch Pruning Saw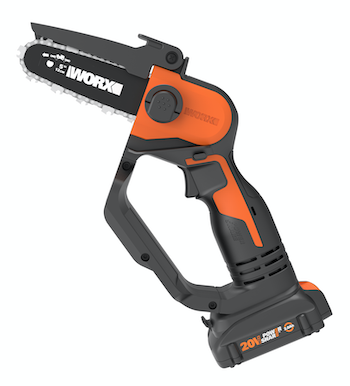 The new WORX® 20V Power Share 5 in. Pruning Saw packs the cutting power and efficiency of a chainsaw in an ultra-compact, highly maneuverable and portable design. The cordless pruning saw also features an offset bar and chain that provides an unobstructed line-of-sight for making precise cuts.
As summer begins, there's plenty of work cut out for this innovative pruning saw, which is ideal for pruning bushes, trimming branches, delimbing fallen trees and bucking logs (cutting them into lengths). The saw's portability also allows on-the-go cutting of logs for campfires, maintaining wooded properties, clearing damage from storms and high winds, and more.
The ultra-compact pruning saw weighs only 3.86 lbs. (with battery) and is easy to maneuver for cutting in confined spaces that are not readily accessible to full-size chain saws. Its 5-in. bar readily delimbs branches up to 10 in. diameter.
The pruning saw also can be equipped with an optional extension pole (WA4301), which provides just over 4 ft. of reach, enabling the saw to trim or delimb higher branches. A version of the pruning saw with extension pole included (WG324.1) also is available.
The saw's 5-in. bar has a reduced-kickback chain with a 0.3 in. pitch and a cut rate of 22 ft./sec. to deliver efficient pruning and trimming results. The saw's chain gauge is 0.043 in. with 28 links.
For user protection, the saw is equipped with a retractable bar and chain guard, as well as a guarded handle design for additional hand protection. The bar and chain guard automatically retracts when cutting from above and can be easily retracted manually when under-cutting is required.
As part of the WORX 20V Power Share Program, the included 20V, 2.0Ah battery is compatible with all WORX 20V and 40V tools, outdoor power, DIY and lifestyle products. The pruning saw also comes with a 2-amp quick-charger that brings the battery up to full charge in one hour.
The eco-friendly pruning saw is emission-free and has low operating and maintenance costs, compared to gas-powered chain saws. Also, there's no starter cord to pull, gas tank to fill, oil to check, spark plug and filters to replace or annoying motor noise.
The WORX 20V Power Share 5 in. Pruning Saw (WG324, $139.99) includes one 20V, 2.0Ah battery; a 20V, 2-amp charger; and a bar and chain sheath. It is available at worx.com. A bare tool version (WG324.9, $89.99), minus the battery and charger, also is available at worx.com and Amazon. Also available is the WORX 20V Power Share 5 in. Pruning Saw with Extension Pole (WG324.1). The pruning saw is covered by the WORX three-year limited warranty.
To view the WORX 20V Power Share 5 in. Pruning Saw in action, visit the following link: https://www.youtube.com/watch?v=5HJm6pmYxLw